Would you dare? Three days without running water and electricity
Backpacking in Thailand: Last year was filled with so many travel adventures and I am still not able to fully understand how lucky I am to have experienced these travels all by myself.  In June I found myself almost alone in the middle of nowhere without any running water or electricity. But let's start at the beginning.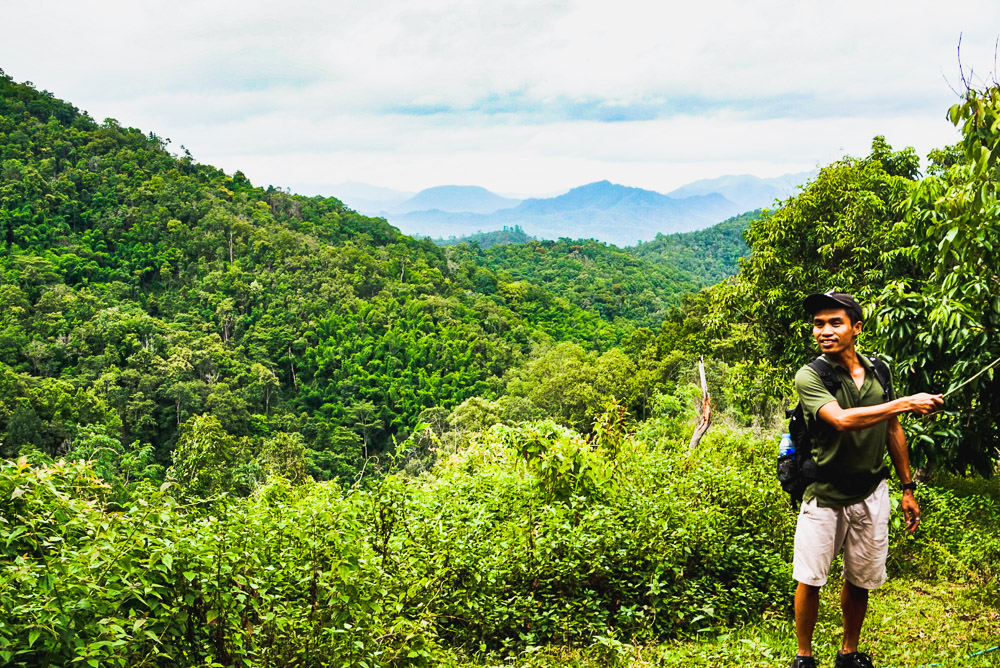 I don't want another holiday - I need a real travel experience
Last year I was finding myself not in need of relaxation, sand under my feet, drink in my hand and view over the sea, but I was feeling adventurous. I wanted to engage with nature and foreign cultures. Although I was living already abroad (United States) I was craving for something more raw, challenging and authentic. After doing some research I have booked my trip with Intrepid Travel, a company which offers authentic small group adventures. One part of this trip was a 3 days hike in the northern part of Thailand and I will never ever forget this amazing time. Backpacking Thailand sounded like the best thing to do!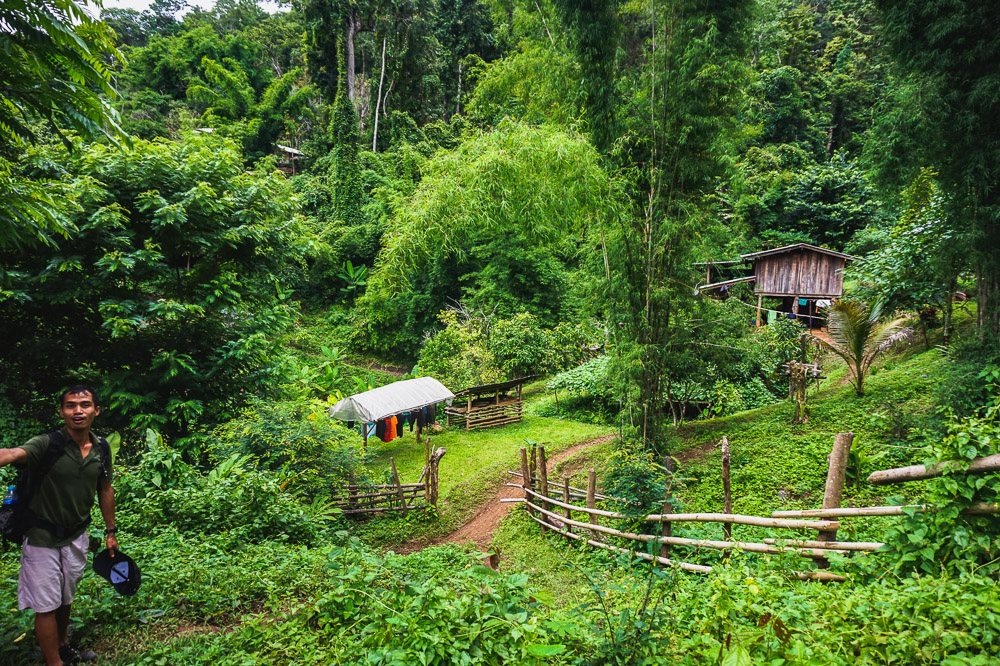 Backpacking in thailand: Setting the scene - Welcome to the jungle
In mid-June, it was still rainy and so hardly anyone showed up for this trip making the small group experience even smaller. I and three others started our hike in the northern part of Thailand, above Chiang Mai. Our guide, a former monk, told us to pack light as it was our responsibility to carry everything we like to use or wear during the upcoming days. Our guides name was Buddy. Of course, that is not his original name but he was sure we won't be able to pronounce his Thai name so we stuck to Buddy. We arrived in Chiang Mai by night train and started our hike in the morning. Carrying all our belongings we hiked the Thai jungle and Buddy showed us all kinds of flowers and animals. It was nice to experience this non-touristy area. We almost never have seen other tourists and the scenery was very peaceful. 
The real backpacking experience: How to live without running water and electricity?
After a day-long hike, we arrived in our first accommodation: A small village with 10 families. In front of the house was a small rice field which produced just enough rice to feed the family who owns the field and to trade rice with other families for meat and eggs. All the families have either chicken, pigs or cows they take care of. I was surprised to see solar panels in this village and buddy ensured me this is really essential as it is the only way to charge the batteries of the mobile phones owned by some families. 
DID YOU LIKE THIS WEBSITE AND WANT TO SHARE WITH A FRIEND? SIMPLY CLICK ON THE SHARE MEDIUM OF YOUR CHOICE
My personal highlight was cooking together with the families. Buddy brought Oreo cookies from Chiang Mai for the children and after watching the children's' eyes full of joy enjoying this western "food" we all sat down to cook together. I was taught how to make vegetarian rolls and spice the dishes. Later in the day, I realized that this food was only for us tourists as it is not really spicy enough to be tasty for the locals. We enjoyed dinner with candlelight and listened to the noise of the night. 
Hygiene in the middle of nowhere
Without running water the village used rainwater for taking showers and going to the toilet. Knowing that I will only stay for three nights that was no problem at all. However, I was lucky to borrow a nightlight from a fellow travel companion in order to go to the toilet during the night as you will meet any kind of animal on the way. Due to our day filling hikes, the carrying of our backpacks and the rainy weather it's hard to feel really clean during that time anyway 🙂 
But when you wake up the next morning and realize how awesome it is that you are here in this very moment, in this far remote spot surrounded by beautiful nature and welcoming locals you can't stop smiling. 
I wandered around the villages with a deep respect for their hard daily life. There is no convenience store, heating or air condition. Everything you need is connected to hard manual labor. This experience is really difficult to describe and I guess pictures will tell you more than words.
The next night we stayed at the house Buddy's friend.  It took us a day to get there and we all have been thankful for a cold beer when we arrived as we had to hike through muddy and slippery terrain due to strong rain for the last couple of hours. Your body takes control of your mind and all you think of is setting one foot after another. Buddy ensured us that it is just around the corner for a couple of times but there was nothing to see. Finally, we spotted a beautiful house in the middle of nowhere next to a river and we all congratulated ourselves for making that long hike. 
I still can remember this very rewarding moment. Nothing feels as good as a tired body and a speechless mind.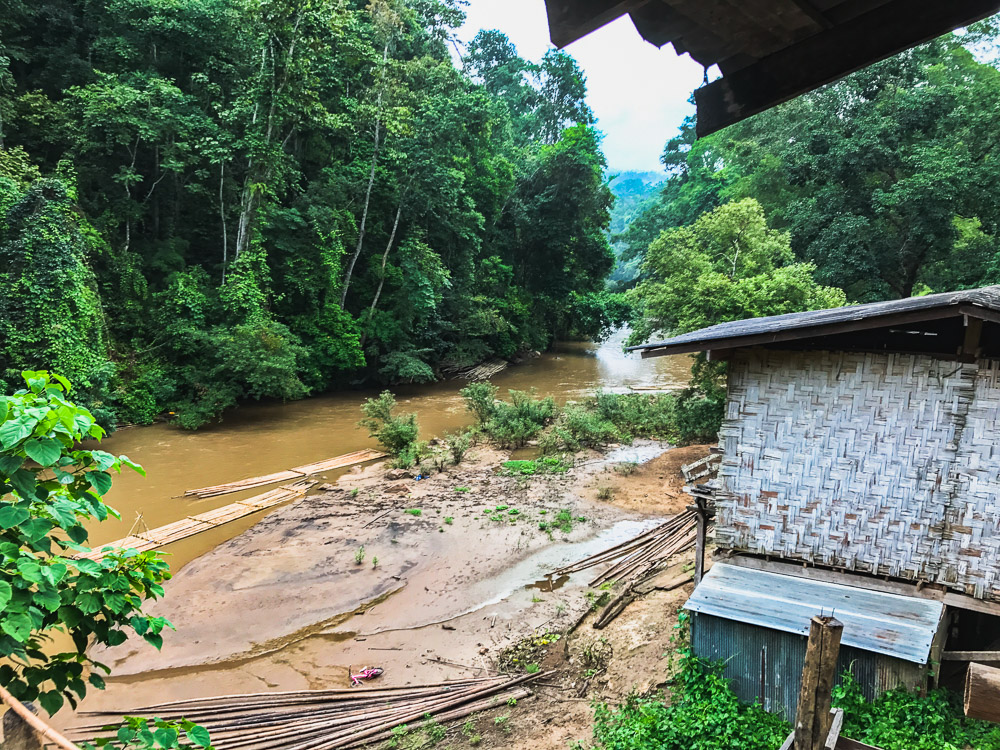 After hiking we went on a 2 days bicycle tour through the rice fields and a 2 days kayaking tour. It was a really sporty and adventurous trip and the perfect experience when you travel alone. However, it's the quiet morning in the mountains of Thailand I keep on remembering when thinking about my time in Thailand. It's always a happy place in my mind to go back to. I guess, it sticks so much to my head as I had to earn the view by hiking all day with my backpack on my shoulder and when I arrived the village there was not a hotel room to rest but the eye-opening beauty of a raw and authentic lifestyle in the middle of nature. Some memories are more valuable when there is NO running water or electricity 🙂 
Thanks for sharing the love and stopping by

Share the article with a friend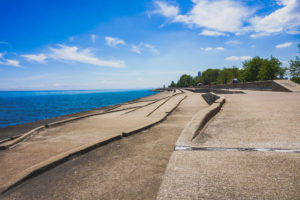 Summer in Chicago is a short but very intense time. Locals truly know how to make the most out of it and the city presents itself from its best side. There are countless events to chose from, and because we all know that summer won't last for long people are rushing outside to take in every glimpse of the sun. If you are new to Chicago or you are visiting the town during summer, check out my 10 Top things to do!
Read More »