Manifest your motivation for quitting your job and moving abroad to become an Expat
Ever heard about a motivation chart?
In this blog post I offer you my advice on how to remind yourself about your motivation when you are living and working abroad. 
Download my free handout and let me know what you think.
WHY YOU NEED A MOTIVATION CHART
I am living abroad as an Expat for more than half a year now. In this time so many things happened and our lives have changed completely. First of all, I fully enjoy this new lifestyle and all the great experiences, observations and acquaintances. However, I also realized that in moments of job rejections, culture shock or when something you planned is just not working out, it is easy to lose track of your motivation.
MAYBE YOU START QUESTIONING YOURSELF - MAYBE YOU FORGOT WHY YOU DID THIS IN THE FIRST PLACE
Therefore, I was thinking about a way to remind ourselves why we do what we do. Everybody has a reason for moving abroad. Most of the time an external factor like study or work is the trigger but most people would not actually go unless there is also a personal motivation behind. Writing it down in black and white can help to overcome fears and to stay positive.
Sometimes it's just a little reminder we need.
It's also a great to have a piece of paper to get back to from time to time and to reflect on the changes you made. Maybe your motivation has shifted. Maybe you lost track of the reasons you came here. Maybe it is just really interesting to see what yourself have been thinking some time before. 
DOWNLOAD YOUR OWN MOTIVATION TEMPLATE FOR FREE
I have put together a small 1-pager which you can download and print. Simply click to download and print it out.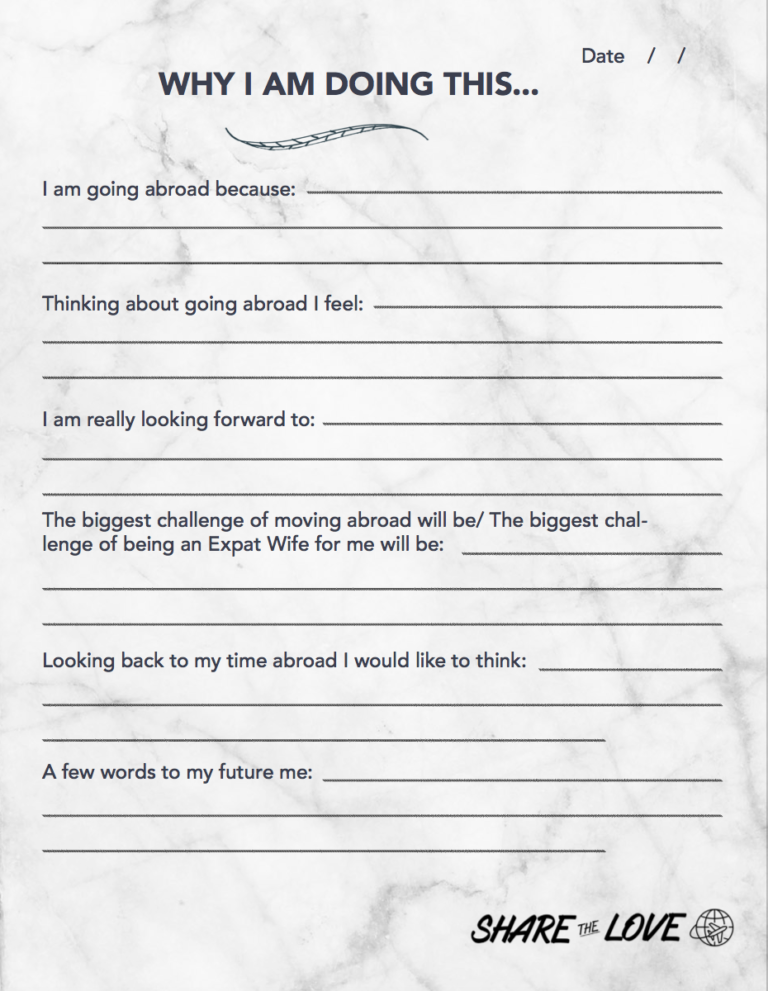 LET ME KNOW WHAT YOU THINK
Is there something you have written down before going abroad?
What are your recommendations to stay motivated when your future does not turn out like planned?
It would be great if you share your thoughts about that in the comments below.
Are you interested in my 7 proven tricks to overcome the Expats Wife's Blues? Just sign up for the Share the Love Newsletter and I will send the free download link to you.
Thanks for sharing the love and stopping by

Share the article with a friend