Welcome to Share-the-Love, my personal website to empower and support the millions of Expats and Expat Partners worldwide. Find guidance and company for the adventure of living and working abroad. 
Enjoy my blog about modern Expat Lifestyle!
SHARE THE LOVE WILL HELP YOU TO NAVIGATE THROUGH THE JOURNEY OF PLANNING, MOVING AND ACTUALLY LIVING IN ANOTHER CULTURAL SURROUNDING. IT ALSO STRESSES WHAT IT MEANS TO BE THE EXPAT PARTNER AND HOW TO MANAGE THIS NEW ROLE.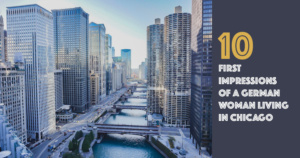 A German in Chicago
After setting foot in the US to live here for the next few years I took the time to write down my first impressions of the city itself and also some American customs that attracted my attention. As a result, I am now showing you my top 10 of remarkable things about the US and Chicago.
Read More »
Sign-up for the Share the Love Newsletter and do not miss out on new posts. Receive download links for my free travel and expat guides immediately after registration.