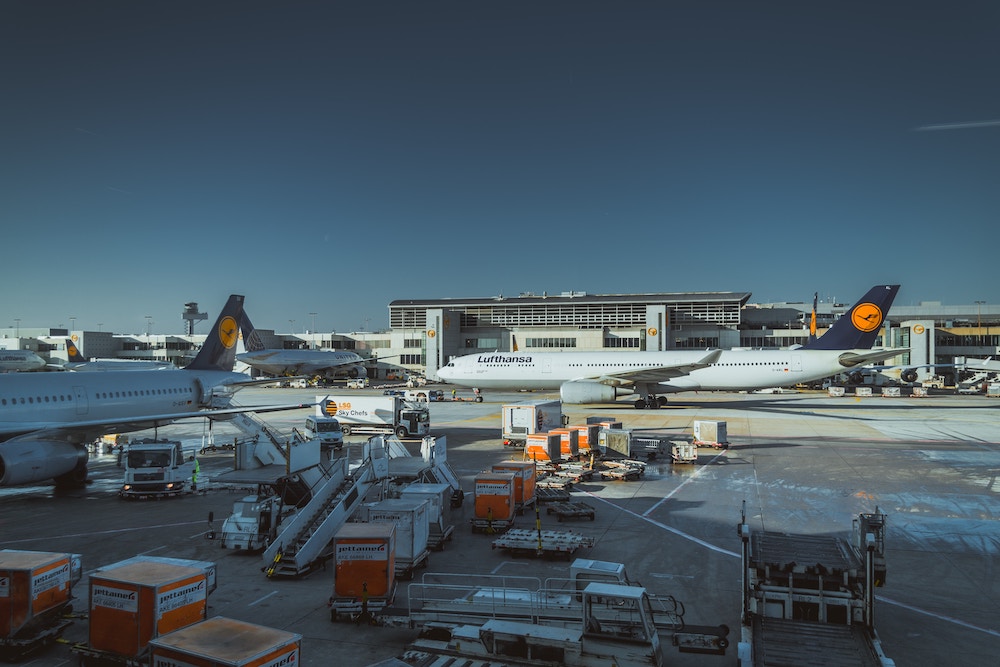 Preparing an international move
Moving overseas is a stressful time, especially when the two Cs (Children & Container) are involved. With our own move shortly ahead, I want to summarize all the tips and tricks I received from other experienced expats and that helped me the last time we have moved countries. This list of tips is tailored to families moving with a container. Often there are professional moving companies involved and while that is a huge help in can also lead to many misunderstandings and hiccups along the way. 
You can also sign-up to the Share-the-Love Newsletter to receive your personal checklist template via mail. Feel free to add your own advice or experiences down in the comments with this expat community. 
Let's roll up our sleeves and get to work:-)
It's time to get rid of all the things you have accumulated over time. It's amazing what is adding up in only a couple of years! I know it's tough, but try to be as ruthless as possible. There is no joy in opening a box on the other side of the world just to find things that do not spark joy. Think about Christmas wrapping paper, the jeans you have not worn, the towels that just do not look nice any longer. When you ask serial expats this is one of the top 3 mentioned tips. This is also a process that you can start early in your moving period to be able to gift and donate the things instead of throwing them away. Rule of thumb: When in doubt, it's not worth moving. Personally, I enjoy the forced shift to minimalism from time to time and I already regret that we have boxes with all the things we did not take with us still waiting for us when moving back.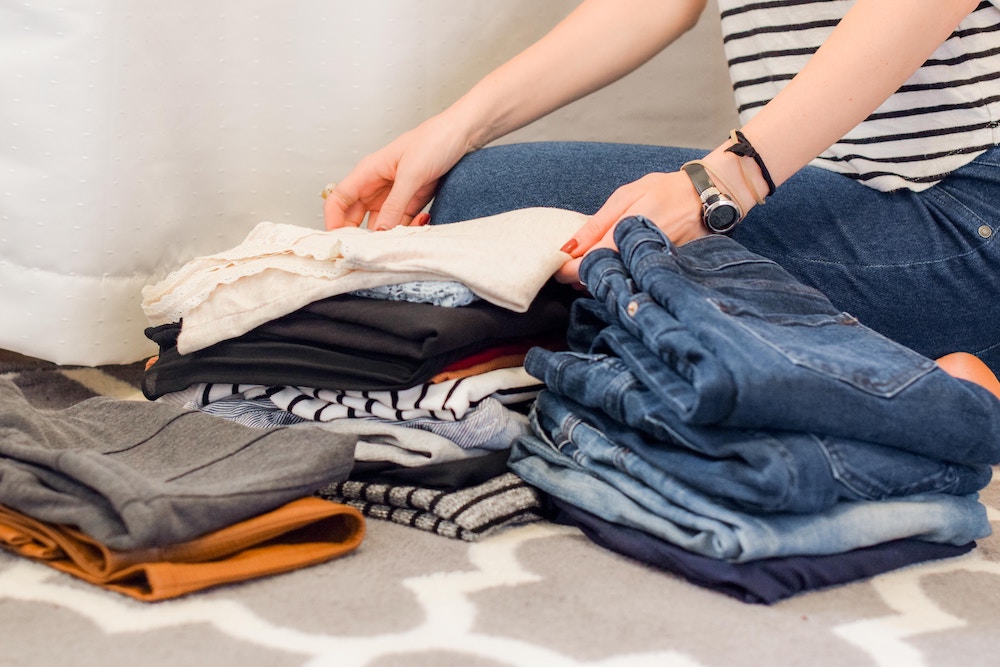 Separate airfreight/personal luggage from the container Pile:
In case a moving company packs your stuff: Make sure anything you will need before your container arrives in your new destination is out of the way of the movers! Don't rely on "Don't pack" stickers as they are easily overlooked. Often the packing happens at such a speed and with so many people in one room that it is impossible to control the separation. If possible lock it away in a bathroom, a car or locker.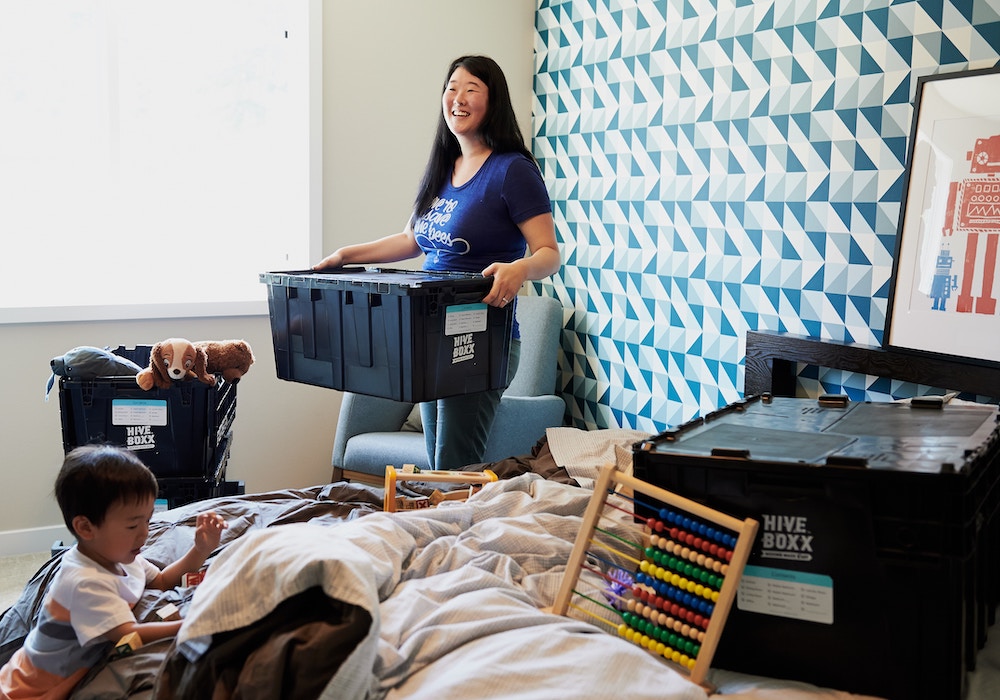 Let's connect
on social media!
Make a photo/copy of all the important paperwork you have and store it in a cloud. You will most likely need documentation for registration, administrative stuff or even for your tax declaration and often it is time sensitive so you do not want to wait till the container arrives. Take originals of birth/marriage certificates, baby immunization and health records with you in your hand luggage.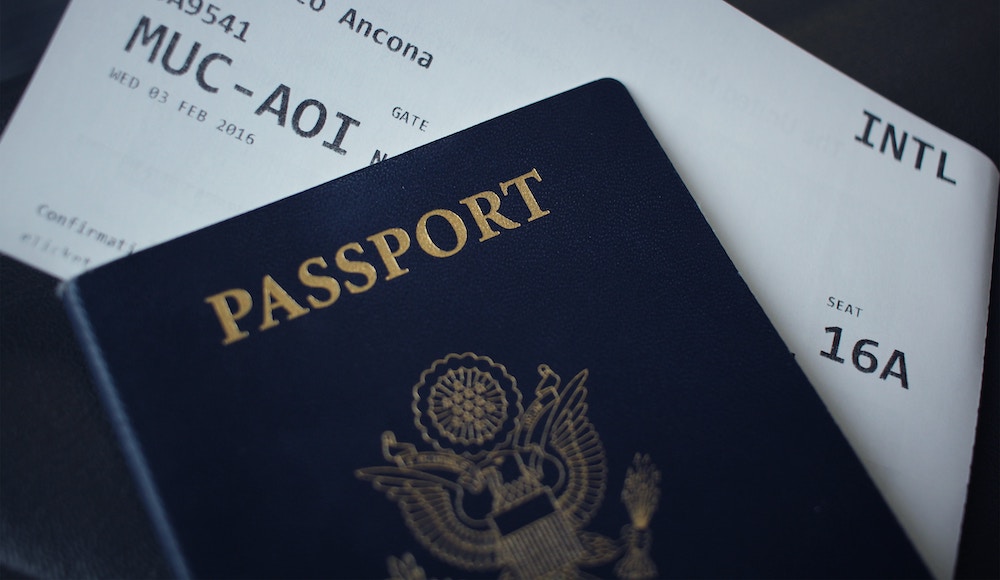 Thinking ahead about baby items
In case you have a baby, plan ahead whether the toys or furniture pieces are still of value to you and the baby two months from now or if the baby might have outgrown them. Check what you can borrow from friends/family either in the country you are leaving or you are moving to. In that way, you can send bigger things such as highchairs via container so you do not have to make a double purchase.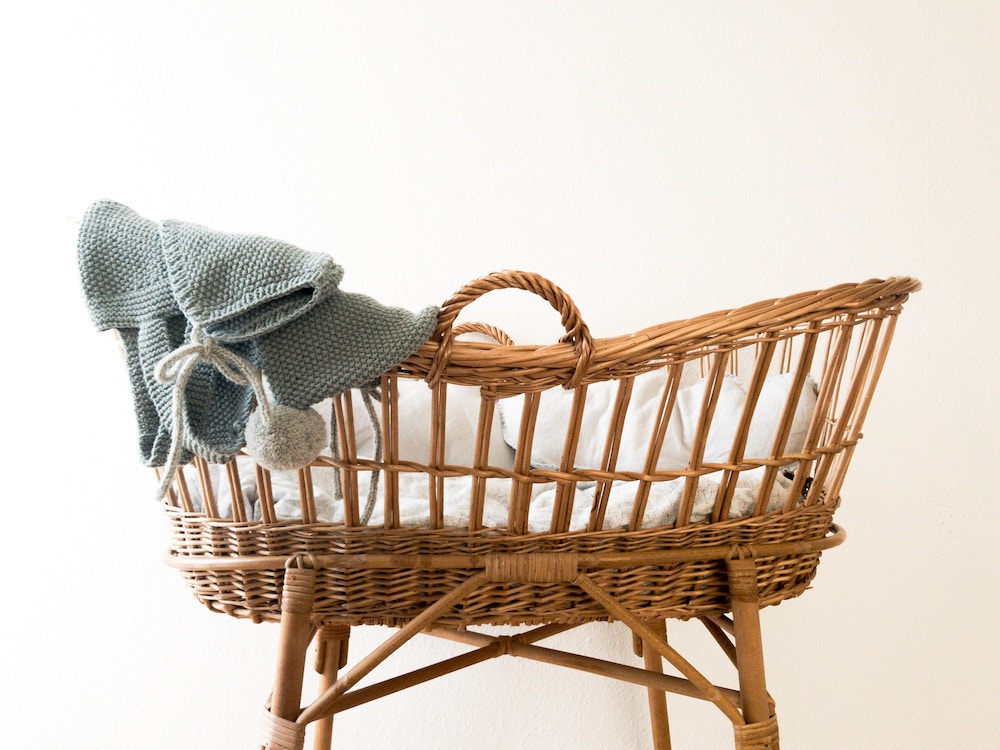 Organize your things before moving day
Movers will pack your things almost in the same order they find it in your home. Make unpacking easier for you by getting items of the same category in one place. Put all the books that are all over your apartment on one pile. Same with clothing, electronics, etc. Another method could be to make sure that all items are actually in the right room when the boxes are going to be labeled "bathroom", "kitchen", etc. It can be annoying searching for your bath towels only to find them between your clothing as you tend to store them in your bedroom. Remember that there is often just not the time to reorganize the boxes on the moving day itself. In case you have an external locker, bike space remember to put everything inside your place on moving day. Bottom line: Reflect on what system is the most convenient and logical to you and plan it that way.
Take pictures of your belongings
In case you are working with a moving company: Next to the inventory list, walk around your home and take pictures of your belongings. Take pictures from inside your drawers and closet. After a couple of months, this will be a helpful resource to see if everything has managed to arrive at your new place and to claim your case if something is broken or missing.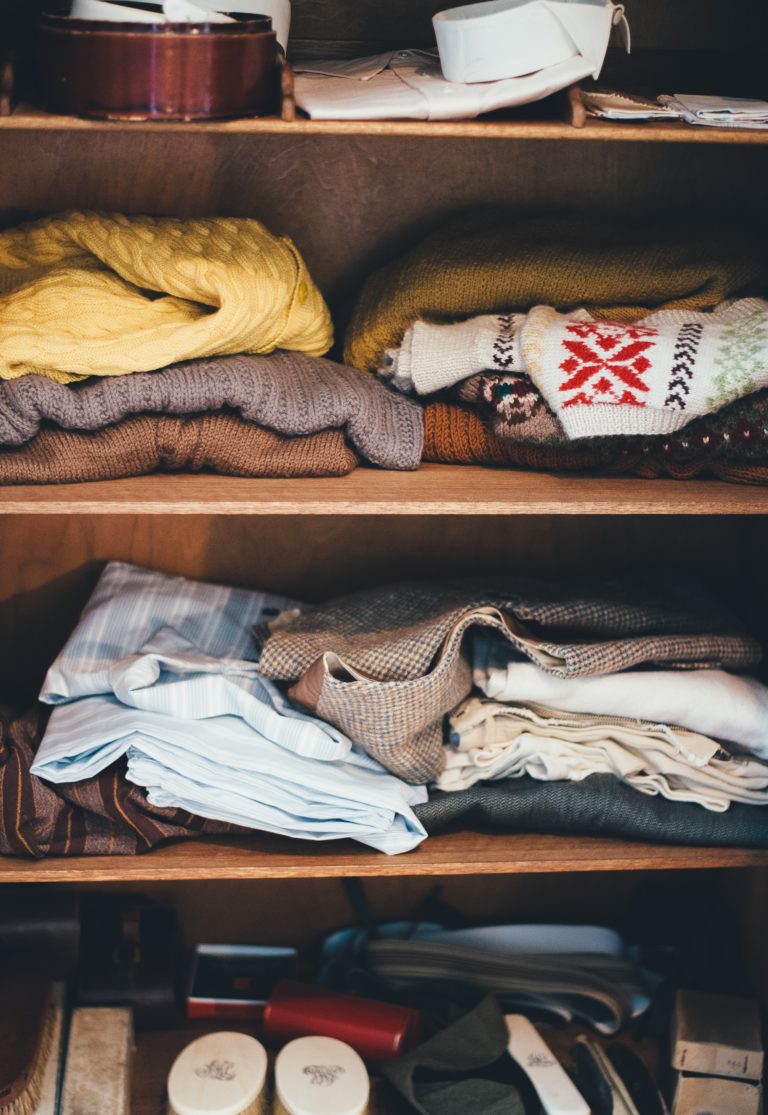 Moving requires lots of organization!

For me checklists are a huge help and it is a great way to see progress by checking boxes along the way.

Download my moving checklist template and make it your own.

Sign-up to the share the love newsletter and get a link to the free download in the welcome mail (together with lots of other very useful expat resources and templates)
Call it white/red/black box or whatever but you will need a defined box with all the smaller things that you do not want to lose sight off. Think about a box for bike keys, USB drives, key tools for furniture and remodeling and all the other small items that might vanish in the sheer amount of packed boxes.
Find a new owner for your plants etc.
Start early giving away plants, food, electronics, etc. that you are not planning to move with you. No matter if you are planning to gift or sell them, this process needs time and you don't want to deal with that throughout the hectic days of moving. Some of our plants will be handed over to the third generation of expats and I am about to arrange a pickup day for our spices a day before our move. Ask friends if they good use your iron or post on local expat community boards to find a thankful new owner.
If you are planning to take electronics with you (despite the potential different voltage) it might be a good idea to purchase the adaptors now before moving. This way, you can use the items right away and it is often easier to find adaptors that work the right "direction".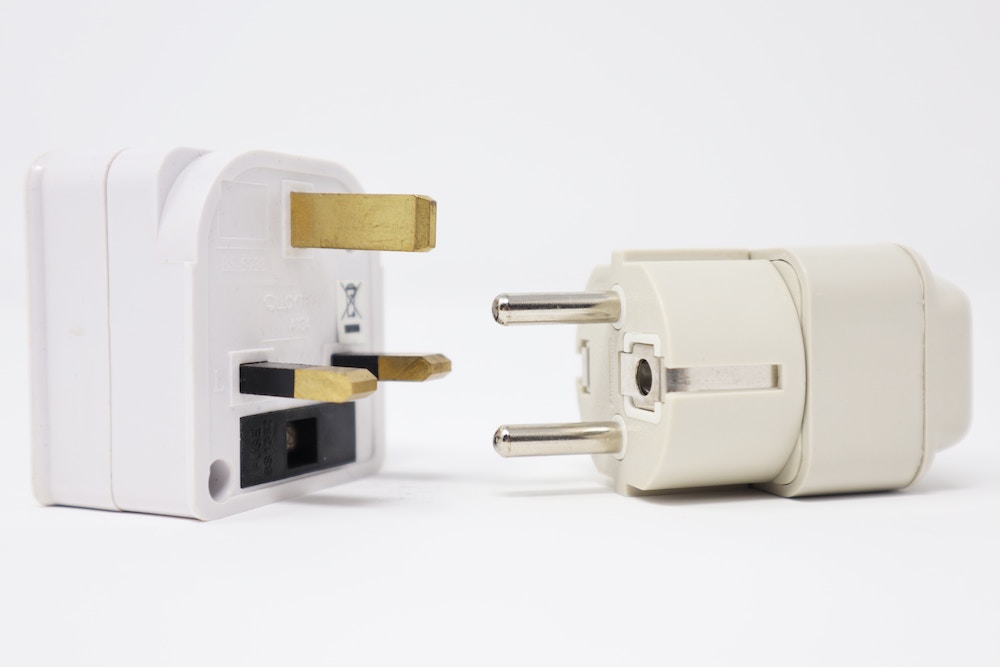 Reach out to local tribes
Check local forums for specialties about the country you are moving to. What better way to plan ahead than asking the people that did it already. Every country has its own unique features. Some are more obvious such as voltage and easy to google, other information is kind of a niche knowledge (e.g. German car seats that are not allowed in the US) Facebook is still a great start for local communities.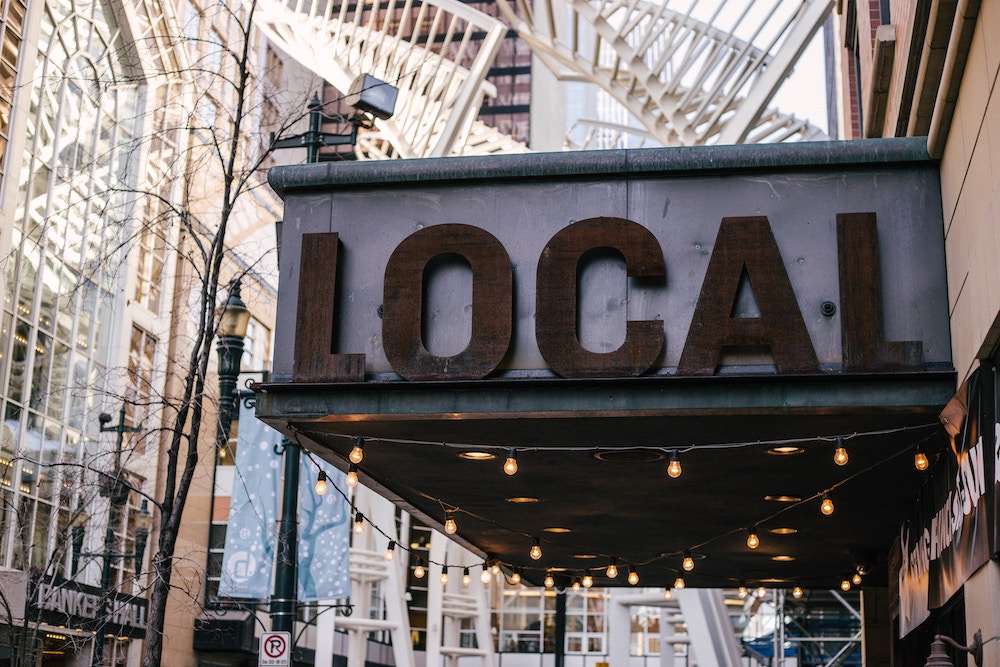 What about alcohol & food?
There are many different views on the internet on that. Some moving companies are ok with transporting alcohol & food but take into account that it is not the moving company who checks your goods at customs! If you want to avoid that your goods are being stuck on customs make a big party before moving to get rid of the alcohol. Moving is also a great time to check your food inventory ahead of time and spoil yourself with all the great ingredients you have left but have always been saving them for special meals. In my case, that is most certainly our truffle oil!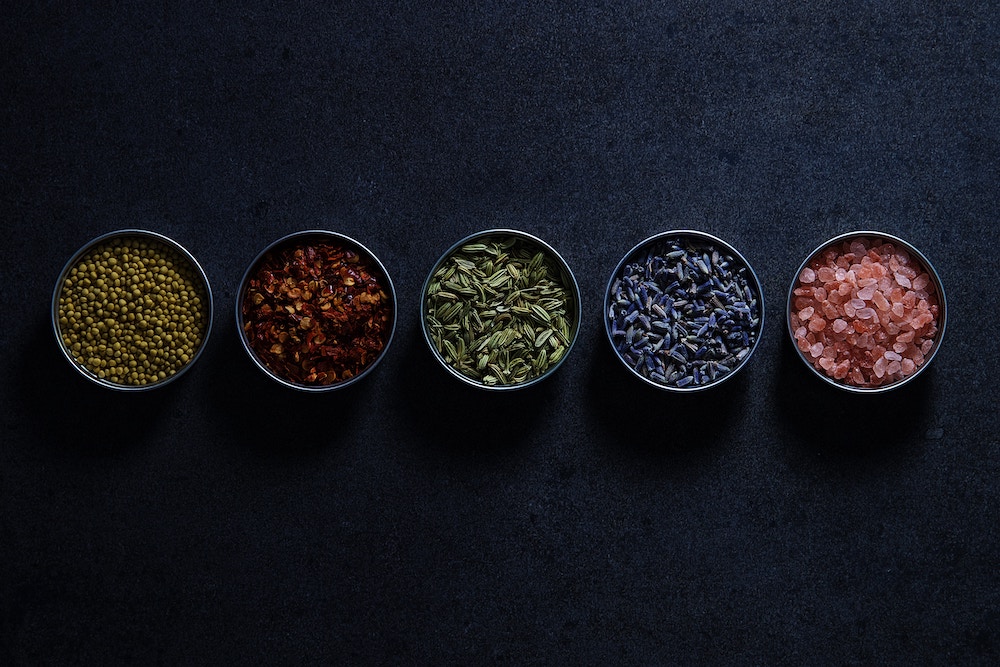 Pack small personal items in your personal luggage or airfreight
Take smaller art pieces or pictures with you that feels like home. It can become really valuable to you when you are arriving in an empty apartment and feeling blue. Small art pieces, the favorite toys, plates, or coffee mugs can make the difference to feel more at ease from the beginning.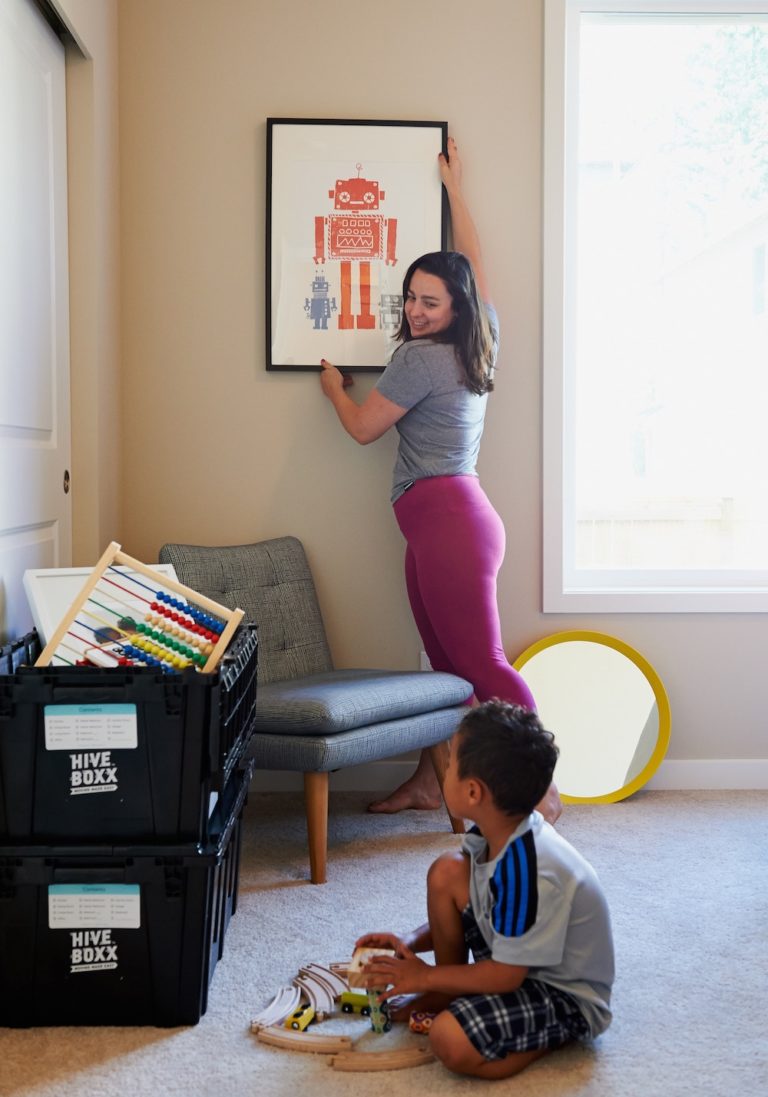 Some advice for peace of mind
Plan with a much longer time for the container to arrive than estimated. Customs clearance is a process that is unpredictable! Plus two weeks is often seen as a realistic buffer. On the contrary, it might also happen that your container will arrive earlier than estimated which can cause stress in case you do not have a new home yet or you are still on vacation. So it is a good idea to plan +/- two weeks to schedule your activities accordingly.
Organize phone sim cards for your next destination and activate a couple of weeks before moving. Many online services (think Paypal etc.) have a phone number check as a security measure and you won't have access to these services without your former mobile number. It is easier to implement a phone number you will have access to in the future to not get trapped in the vicious "Reset password with your former phone number you no longer have".
Sometimes it is necessary to keep one account open but close the ones you do not need any longer and get it in writing. You just do not want to deal with hidden account fees when you are long gone and can't cancel the account in person any longer.
Don't get stuck with the packaging material
Clarify who takes the empty boxes and packaging material. Some moving companies are willing to collect the material two weeks after coming home if you do not manage to unpack everything right away.
When the last box is packed, walk through your home checking for things that might have been forgotten to pack before signing the inventory list.
Where are your passports?
It's almost a running gag within the expat community but the passports are not also the most important documents you have, they are also very easy to lose in the turmoil of an international move. Take them away very early in the process and decide as a couple where to put them so that all are aware of the location. Moving can be a lot and you do not want to worry about your passports!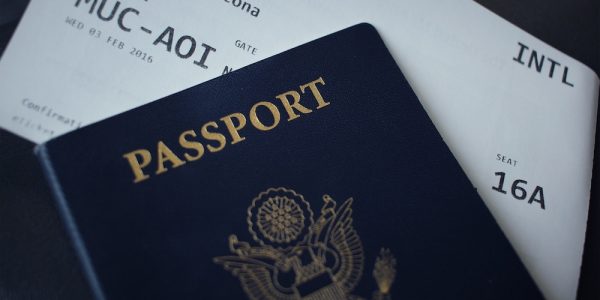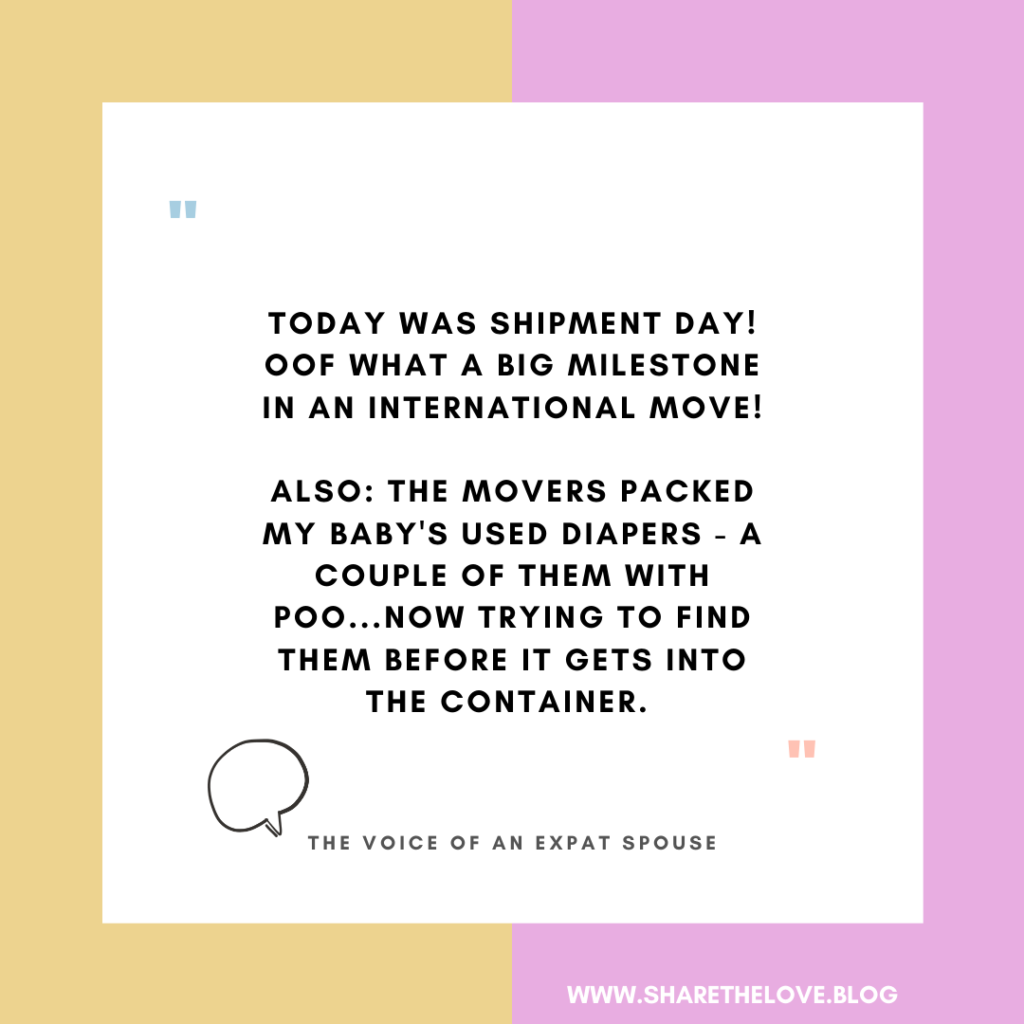 Try to keep your sense of humor and accept that you can't plan anything. Things will break, deadlines will be missed, and unexpected challenges might arise. However, life is short and humor way to important so I was searching the web for some funny moving stories. You won"t believe what funny situations can happen when you have movers in your house combined with a higher stress level. Here are some of the funny anecdotes told by fellow expats:
They packed my handbag! Lucky I realized before it was in the truck otherwise I would have had no cards/ID/passport!! They also packed dirty laundry that was in a basket.
When we left India, the movers packed a bag of cat litter
A frog was hiding in one of the golf shoes
Had an open box of cereal I was snacking on that day that got packed.
We just received and unpacked our ocean shipment. They had carefully wrapped and packaged in 3ft of wrapping paper a damp half used bar of soap!
In our last move we had our babysitter come to play with our toddler and take her to the park so we could rush and direct the movers...She came back and discovered her backpack including house keys, wallet etc. was packed away
They packed the door handle from the main entrance
A friend's fish AND the bowl with water he was in was packed up!
Sippy cup full of orange juice. I had a 3 years old and 4 week old. I was slow to unpack and found the exploded rotten cup in a box nearly two months later.
Catbox complete with litter and cat poop and pee. Awfully smelly box at the other end.
Any funny moving anecdote to share? Feel free to tell us in the comment section below 🙂
Ok, so these are my top moving tips for your next international adventure. As we are all aware, moving is a stressful time. It is a time of sad goodbyes, new beginnings, and many question marks. Try to stretch your tasks and decide as a couple how to organize it. Be good to yourself and patient with your family. We all tend to cope differently with closing chapters in our lives. Some of us are loud and expressive, some are quiet and do not tend to share their feelings.
One way or the other, one day you will wake up someplace else that feels like home.
If you have another great tip please use the comment section below to share!
Thanks for sharing the love and stopping by

Send this article to a friend & share the love: