Can you have it all? A thriving, global career and a happy family life?
There are several potential reasons, why the vast majority of expats sent abroad by companies are still men. One of the often-mentioned myths is the question of balancing motherhood and a global career. In this article, you will learn about the different family models Female Expats choose and the essential parameters to make it possible in the first place.
The thriving Female Expat
A qualitative study of 30 role models around the world
I interviewed 30 amazing women working abroad and asked them about:
– What was your motivation to go abroad?
– Can you have it all? A successful career and a family?
– How do you deal with the opinions of friends and family back home?
– What makes you thrive in your career?
Can you have it all? A thriving, global career and a happy family life?
Worldwide there is a societal expectation on women to focus on family planning. This expectation varies from country to country. Still today, the idea of women focusing primarily on family while men focus on their careers is part of many cultures worldwide. Hence, it is worthwhile to dig deeper and analyze how the Female Expat handles all the expectations around her role. Is it possible to have it all? A fulfilling career AND a happy family? And if the answer is yes, how does she do it?
Dual-Career Couples do already struggle in their home country with the support of extended family around. The Female Expat has the additional challenge of a missing support village, the added mental load for caring about the cultural and social integration of the children, and dealing with an unfamiliar daycare system.
So, let's look into the data of my recent Female Expat study that covered the stories and life decisions of 30 female breadwinners around the world. You can access the study here for free. I decided to make it available without charge as I see great value in providing this platform for their voices and love to contribute in this way. If you want to support my work please feel free to share the study with friends and colleagues and raise awareness.
Some key takeaways of the family planning thoughts within the Female Expat community
While 60% of the interviewed women are mothers, 40% have no children for various reasons. Although most women without children are married or in a long-lasting relationship, only 33% are planning on motherhood in the future. 42% have decided against children, and 25% are still undecided.
Whether to have children or not, considering it is possible in the first place, is affecting the whole expat experience. (Go here for further reference on the topic of infertility during expatriation). Hence, I would like to elaborate on the different experiences of mothers and non-mothers. How do they experience the challenges abroad? What are their views on the world? Is there a significant difference in their career planning and outlook on Female Expatriation?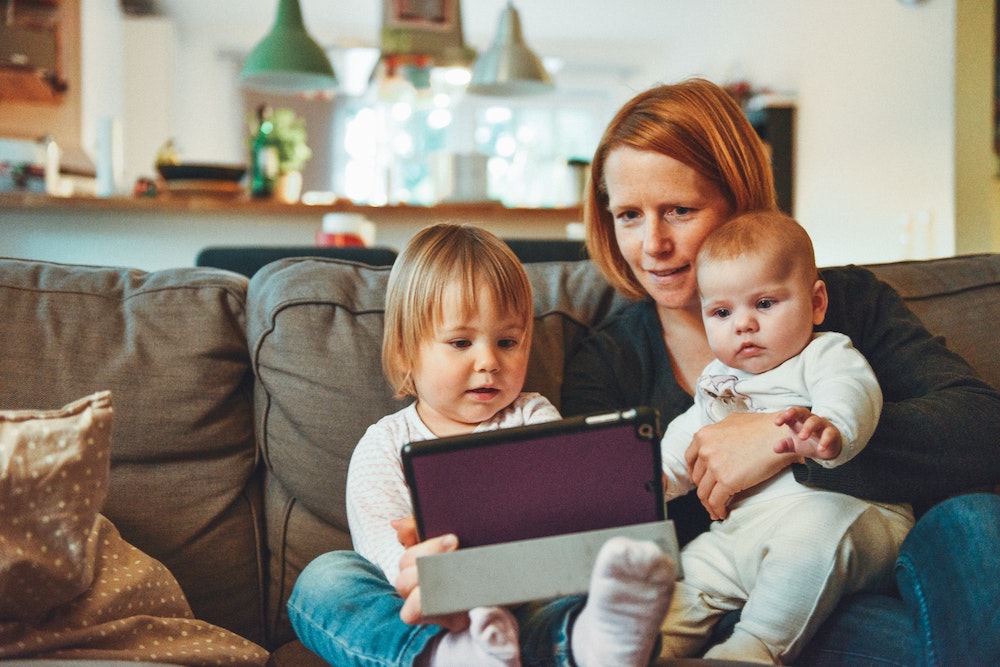 Some key take-aways about balancing family life and career:
Women stress the additional need to focus on the family during their time abroad.

The majority sees the role of the partner as a must-have to have a career AND children.

Especially in countries with lower costs, establishing an own support network with nannies and babysitters is very common. Especially single parents stressed that this way they can continue their career while going back home would not be an option due to higher costs and lower childcare availability.

The range of views on what is possible and what is not is enormous. Even among Female Expats, every life model is unique, and not every solution is equally desirable. While some want to consciously give up their job, others change employer and continent as a single parent with a 4-month-old child (more on that in chapter 5.1 within the study).

There is both incomprehension and admiration for mothers who decide to give up their careers and focus on their families.
Why some Female Expats choose not to have kids
Another exciting dimension is to look at the reasons why Female Expats choose not to have kids. Since the problematic compatibility among dual-career couples is particularly evident abroad, it is only logical that some women actively decide against having children. Here are some statements from women who have consciously made this decision:
"My best friend is matching the opportunist family concept and has built a law firm while having twins on her arm. I admire that a lot. I could not do that. Because none of these models suit me, I have decided against having children."
"I do not plan to have kids for various reasons but I see from friends of mine who do it the opportunistic way that it is not working and they feel guilty in both worlds so I would do it in a more pragmatic order. Especially at the management level I already feel that I have several children and I do not need more children in the evenings when I am home. I am not a kid person."
"I don't think I would be a good mum right now as I am very focused on my career, I would do my best to make it work but my main focus is on my career. A partner is not a requirement and he could also stay in the way. I have a very masculine nature and my partner is more female. We already talked about that he would take care of the child if I had a good position as he is working freelance."
The three different approaches of handling motherhood & career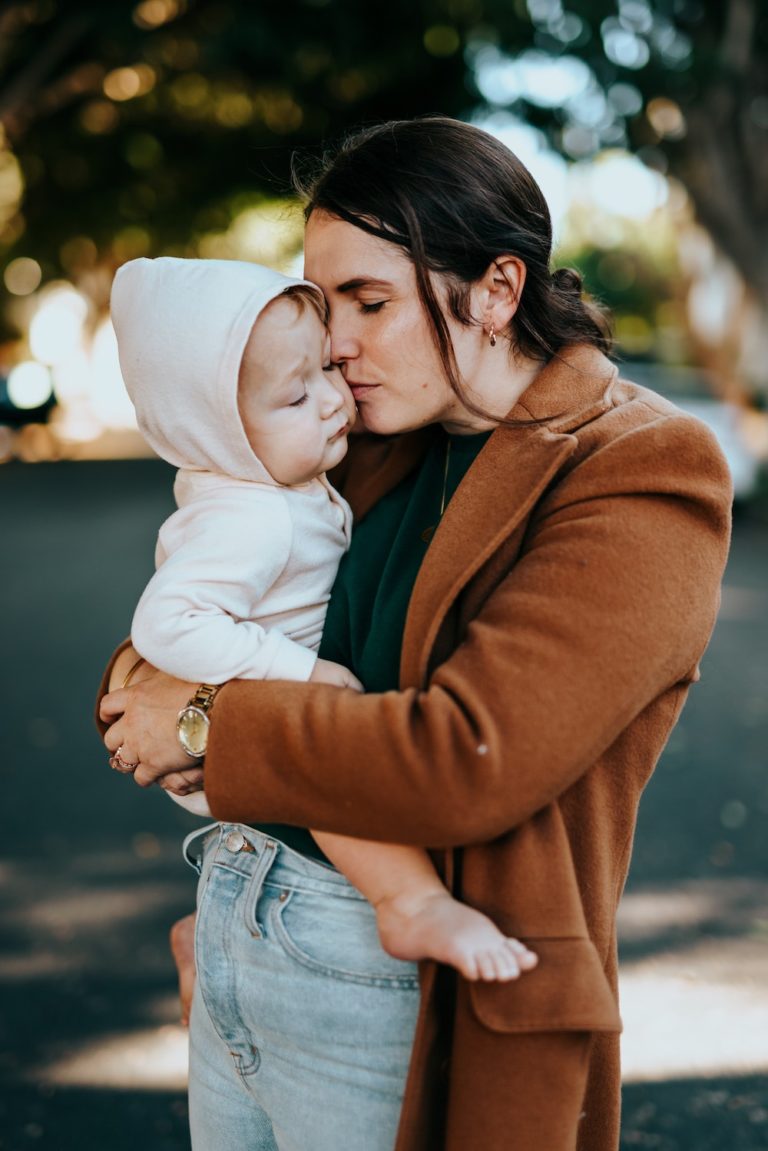 In the paper "Career and family expectations of women in international management: A view across generations" by Moeller, Napier, and McGourty (2014), three different family models are discussed, which are also represented in the individual interviews of this study.
A fundamental distinction is made between the models of the choosers, the pragmatists, and the opportunists. All three models describe the interplay between parenthood and career and show which compatibility concept the mother or the parents as a couple feel comfortable with. The three concepts describe the woman's attitude towards the appropriate balance of work and family time. Here is a brief description of these three models.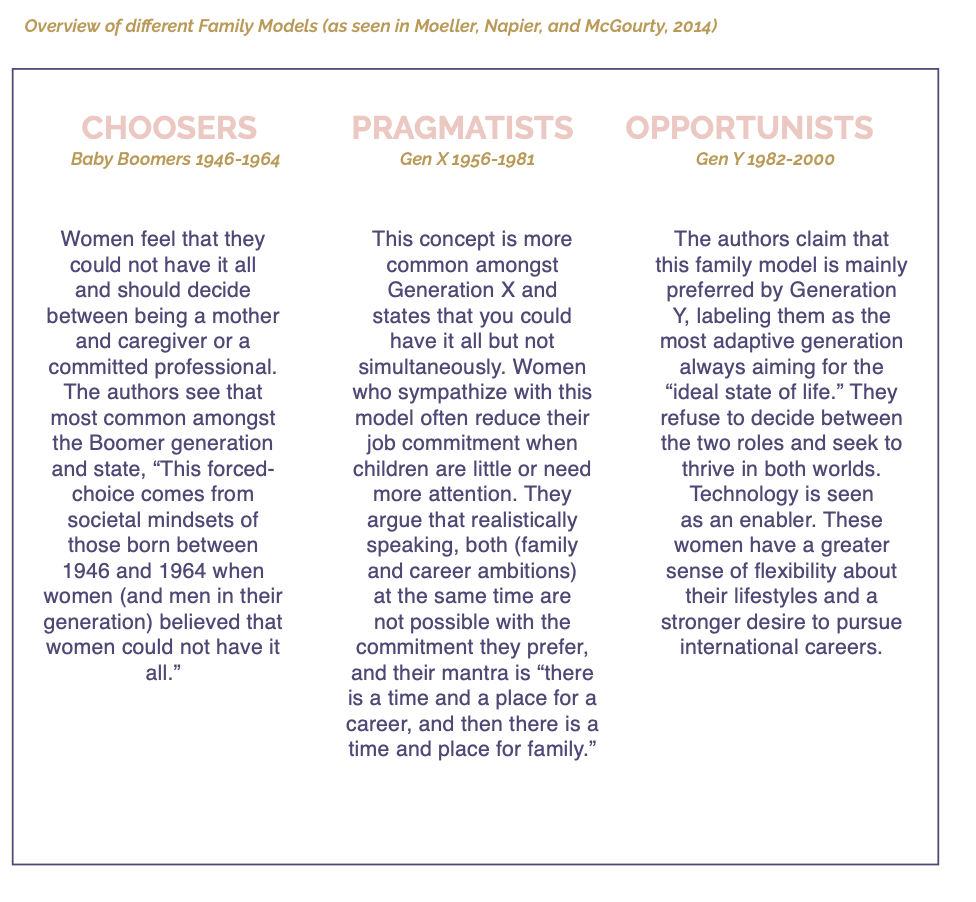 All interview partners have been asked to reflect on their own family concept and state which of the above most matches their own lifestyle. While I also asked Female Expats without children to share their perspective on this, the following data refer to mothers only as there is a difference between visualizing a lifestyle with all its consequences and actually living it.
The chart shows that the opportunistic family concept is the most popular amongst Female Expat Mothers (56%). However, all three concepts are reflected in the group of interviewed women, and the pragmatist attitude remains very popular. Only the Chooser model seems to be less represented. Interestingly, however, there are quite a few Choosers among the women without children who have consciously decided against children and favor a career (more about that within the study in chapter 5.2.).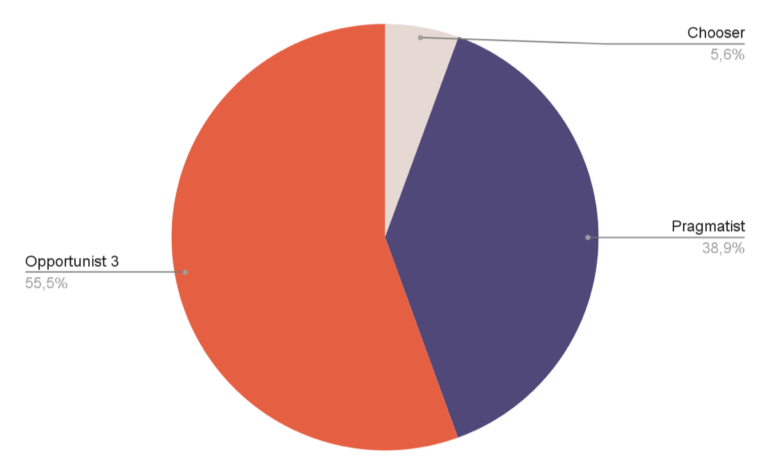 Your 3 months coaching program
Let's get your journey started. I guide you through the jungle of question marks and give you the space you need to reflect and acknowledge your real career purpose.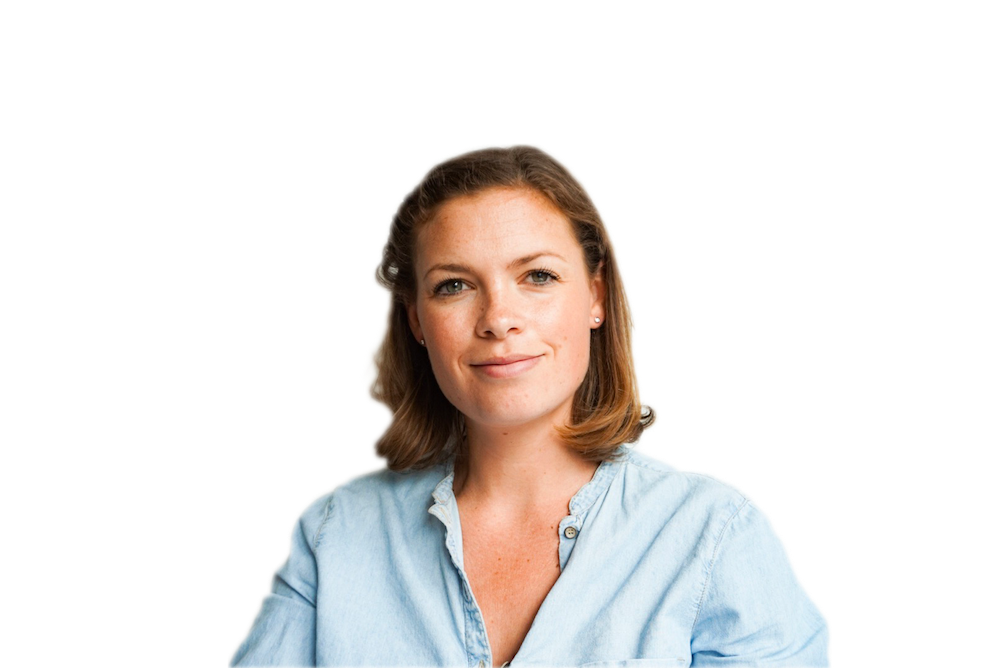 So how do the Female Expats in this study look at their own family model? What are the main challenges and reasons behind them? Let's have a look at their own words. Here is a small sample of the quotes published in the Female Expat Study:
Prioritizing family over career:
"I don't think I'll stay in research much longer. Right now it is still possible to work but in the long term I would like to put the priority on the family."
The family needs special attention when living abroad
"I see myself between a pragmatist and an opportunist. I think both are possible, but it is also important to look at the whole family situation – especially abroad. If both move abroad, take a higher job, it doesn't go well and the family falls behind. Especially women have to take care of their own energy."
The partner as an essential pillar to continue career
"When I got pregnant I thought I could have both at the same time and my husband would stay home. But I couldn't breastfeed at work because my child didn't drink and I couldn't sleep at night. That didn't work so I took a leave of absence and we moved to the country my husband is from so he could work and I stayed at home. We repeated this when our children were teenagers and I felt they needed a mother at home. In
the other phases, I worked full time and my husband was a family man. For both of us, it was important that we raise the children ourselves and not the nannies."
Reducing workload or responsibility for the sake of the family
"That's why I gave up management responsibilities in order to do more justice to my role as a mother. In the management role, I permanently had a state of anxiety."
Establishing a vast support network
"I am an opportunist but never with equal dedication. Family was always first. I do admire the chooser type of person because it means that you own that role completely. I can't make sense of the second type as you can't have a career after a complete stop. There is never a right time for children. In Asia, we always had a support network of nannies. My partner did not take parental leave but we established our own support network."
"Motherhood was uncharted territory for me. It took a lot of my flexibility but I also started to be kinder to myself. I learned that I have to be flexible with my family and career ambitions. I can't have a perfect career and be the ideal mother. I stopped being so hard on myself and did not work long hours and not beat myself up as I used to do."
Possible thanks to local childcare system
"It works out somehow. But that's also why we chose Norway instead of Germany. In Norway, work-life balance is better than in Germany because the care situation is much better. Also, my partner has taken a very important role. In Scandinavian culture, it is much more common to support the woman and take her career ambitions seriously."
In the study, I also listed the extent to which age and the generation you belong to play a role in the choice of the family model. You'll also find some very interesting perspectives on single mothers and how they managed to fulfill their desire to have children despite the additional challenge of an international career. I hope you enjoy reading the study. I myself love to browse through the different quotes. They all give insight into the different mindsets of these women and show how diverse the answers to the topic of family planning and career can be. There is no one right model. But there is the one right model for you in your current situation.
I am very happy to hear from you! Feel free to share your thoughts with me. Thank you for your interest in the topic and if you are facing the question of how to find a suitable compatibility model, I highly recommend my study, the very good book by Petrigilieri on the topic of dual career couples, or a 1:1 coaching program with me to discuss your situation individually and to define your very own solution.

Do you know anyone who might find this helpful? Share the Love by sharing this article