Is the grass greener on the other side?
Insights into the study of career and life decisions of Female Expats
I am thrilled to finally share with you my latest research on the Female Expat. After months of work (and a steep learning curve on conducting academic research), I am proud to present the result in the form of a free epaper to download. In this blog post, I will share key insights and why this study is relevant to you when accompanying your partner on an assignment abroad.
The thriving Female Expat
A qualitative study of 30 role models around the world
I interviewed 30 amazing women working abroad and gained valuable insights into: 
The real trigger to move abroad
The struggle to have it all: A successful career and a family
The confident handling of opinions of others
The additional pressure as a woman in global mobility
The career drivers of globally-minded women
The 4 types of the Female Expat
How knowing about the struggles of the Female Expat is crucial for the Expat Partner
As an Expat Partner Career Coach, I work with women who want to re-enter the workforce after moving abroad, after extended maternity leave in a foreign work environment, or after returning home and are overwhelmed by the potential options ahead. They often feel uncertain about the gap in their CV and struggle to sell their expertise. I work with these women to gain clarity on the next career steps and support them to present themselves in a professional context and taking action. They rediscover a sense of purpose and a professional identity next to their global family life.
While I focused my research and coaching over the last couple of years on the struggles of the accompanying partner, I always kept an eye out for the female breadwinner. The one who deliberately chose to pack her bags aims for an international career against all odds. I figured that there is not much of an understanding or even friendship between those two groups of women, and I wondered why one is struggling with regaining a sense of identity abroad while the other took matters into her own hands. Is the grass greener on the other side? Is one giving up on emancipation and the other betraying the traditional family model? Obviously, the answer is not that black and white, and I was curious about the grey areas in between and what Expat Partners can learn from the decision-making process and challenges of the Female Expat. I find it crucial to chose to learn from each other rather than being intimidated. While Expat Partners have their very own struggles that are often unnoticed by society, much can be learned from women who thrive in their global careers. Reading through this study will show you the vulnerable and human side of the story. It will put real emotions first and shows how these women have overcome their challenges and how you can too.
What started as a quick side project quickly turned into a project equivalent to a Master's thesis
I knew that making the challenges and attitudes of the Female Expat visible to a bigger audience would help change the narrative of female expatriation. While there is a lot of academic research on this topic, my typical client is not the target audience of those papers. We need to create an understanding for one another without the barrier of accessing paper or reading through the not easy-to-digest narrative of academia. So I took matters into my own hand, dug a bit deeper, and interviewed 30 astonishing Female Expats from all around the world. In this report, you will find the essence of this work alongside references to great studies and papers in that field. Sharing stories is my most favorite instrument to make the world a better place. By sharing others' approaches, challenges, and ideas, we create visibility for burning issues and present potential solutions simultaneously. All these 30 women are role models in a certain way. The variety of their personal approaches and choices shows that there is not only one path to develop a successful career abroad. Reading through their quotes, one gets a feeling for their different personalities and their view on the world.
What makes this study special
This study is unique in the way it was conducted. While it follows the rules of academic research, including supporting papers on these topics and introducing essential frameworks that have already been established, this report focuses on the women themselves.
To answer the research questions, 30 women have been interviewed via 30-45 minutes video conversations. A standardized questionnaire was developed beforehand, and each conversation followed the same sequence of questions.
All conversations have been recorded and transcribed. The responses have been added to the qualitative analysis program MAXQDA, a software program designed for computer-assisted qualitative and mixed methods data analysis. Each transcript has been coded to deduct quantitative conclusions from a qualitative format. This way, patterns in actions, motivation, and world views became visible, leading to 4 different personas of expats. This approach also enabled insights into the most common expat myths. It provided data on the most common challenges for female expats, their motivation to move abroad in the first place, the role of motherhood and family planning, career planning, and the influence of personality traits on the expatriation experience.
Vast parts of the report are unfiltered quotes by the Female Expats herself. Thanks to the interview setting, these women shared very openly and without holding back. I have included both: The strong and inspiring moments and the moments of doubt and anger about their situation. The result is a very authentic portrait of the Female Expat, and I aim to add a human touch to the academic discussion.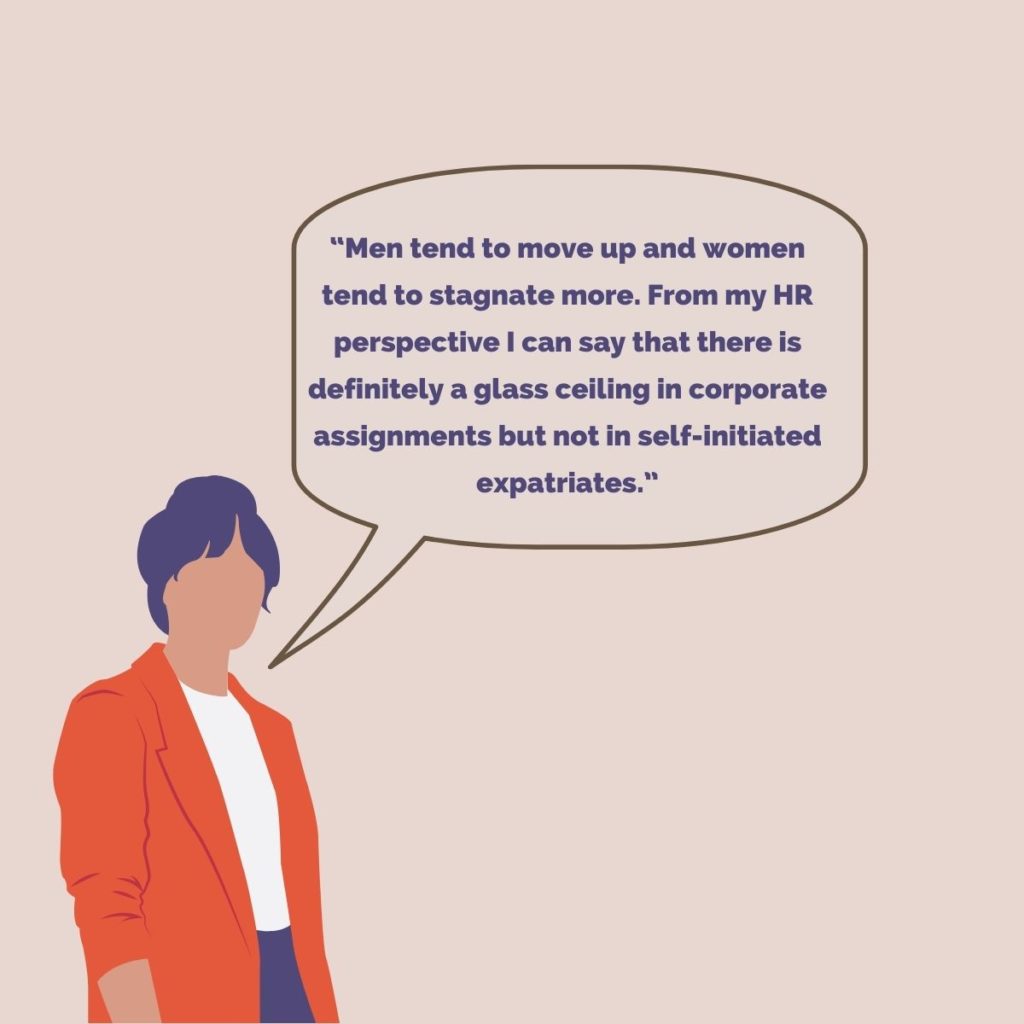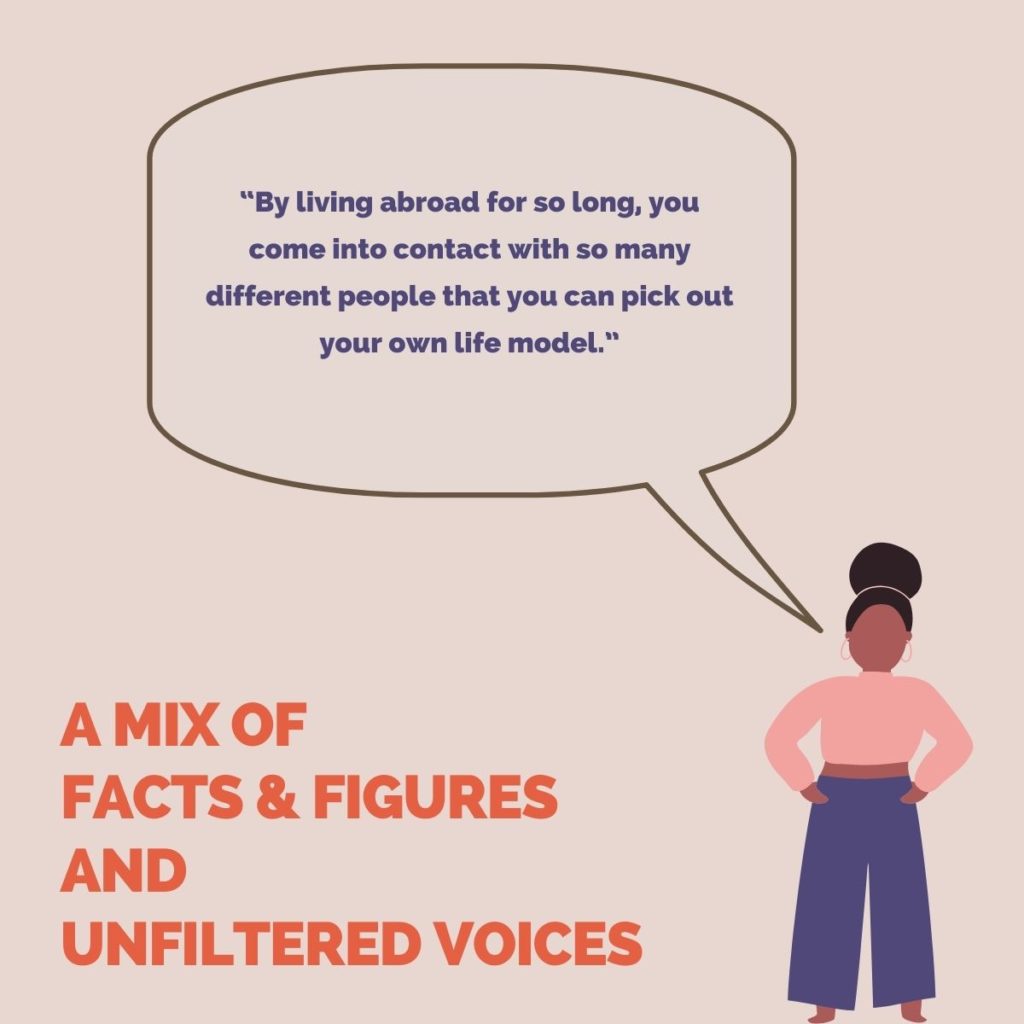 When talking to confident women who found their purpose
All women have been incredibly inspiring in the way they portrait their unique and very personal stories to a stranger. One can feel that these women know that they are more the exception than the norm and that by showcasing their story, they aim to contribute to a more equal world for working women in the future. They all shared in a very authentic and often vulnerable way about their struggles and mentioned their hope that more women would follow in their footsteps. Throughout this research, I talked to very confident women pursuing a more male characteristic career plan and women who used their career as an enabler for an independent life. I spoke to women who are more interested in foreign adventures than the perfect career, and I met women who found themselves in this experience by surprise.
I am grateful that this work reminded me how diverse we all are in our ambitions and desires but how unified we are in our challenges and struggles.
This report aims to showcase both: the diverse paths of Female Expats and the everyday challenges they face when conquering the world.
My personal key take-aways
I want to close this introduction to the study by summarizing some of my key takeaways from it. These insights surprised me or proved a feeling I have established over the years coaching Expat Partners. You will find many more insights in the report itself, and depending on your very own story, you will be drawn to very different chapters.
So here are my key takeaways from talking to 30 remarkable women working abroad:
The future of global mobility and female expatriation is about to change. The number of female expats has increased significantly, and dual-career couples are becoming the new norm. It is essential for, both companies and individuals, to discuss the opportunities and challenges and level the playing field of global expatriation. I hope this research will contribute to that goal, and I would be thrilled if you share this research with your employer, colleague, or fellow expat partner to improve the situation of women in the global workforce.
Thanks for your ongoing support and contribution to this project!

Do you know anyone who might find this helpful? Share the Love by sharing this article