10 first impressions living in chicago by a German
After setting foot in the US to live here for the next few years I took the time to write down my first impressions of the city itself and also some American customs that attracted my attention. As a result, I am now showing you my top 10 of remarkable things about the US and Chicago in particular.
1. Theater after theater after theater
I have literally never seen so many theaters in my whole life. I am lucky enough to live in the city center and just walking out our apartment door I am surrounded by countless potential shows to go to. Every evening I am passing by the theaters where so many people are waiting outside with happy faces looking forward to a joyful evening. It still feels wired to walk across the street and already be inside a theatre. The choice is incredible and it is really hard to choose from. 
I love to use apps like "Goldstar" to be inspired about new shows. But the best prices I get when passing by a theatre throughout the day to ask for last-minute tickets.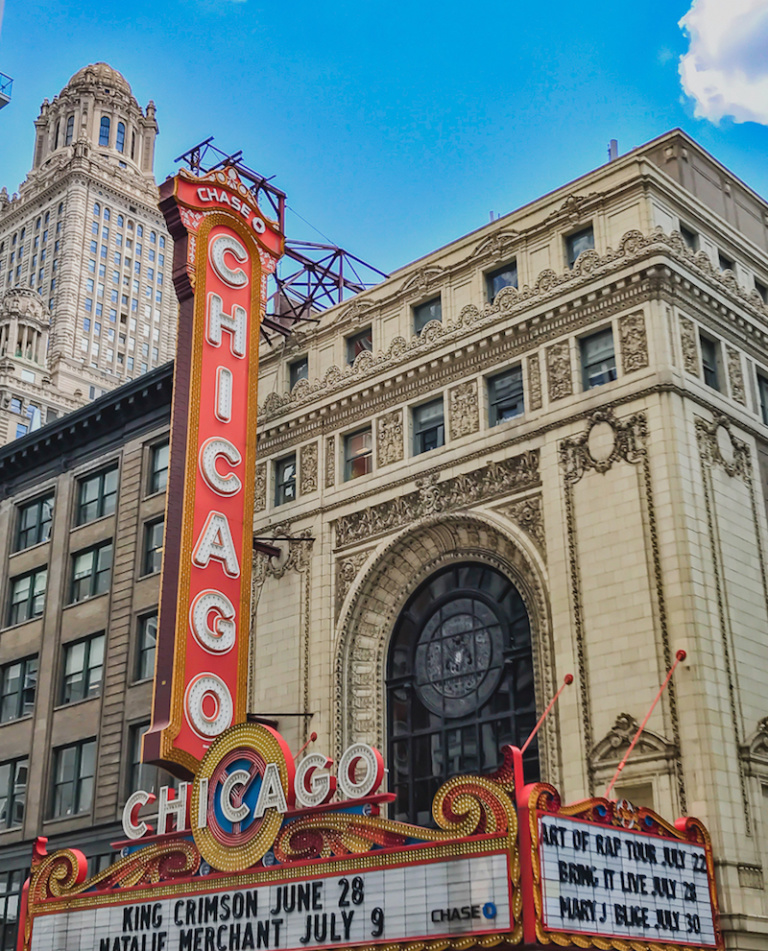 2. The second city below: The underground pedway system
Chicago is known for the really cold weather in winter times. I already experienced the pain on my face myself when temperatures are dropping really low and you just want to stay home. The good thing about Chicago: Many cold winters like this one inspired the city to establish a downtown pedestrian way system, short Pedway, which links more than 40 blocks. That means you can easily navigate yourself without having to face the cold weather. Clever right?
3. Driving the car in the city center is an experience itself
Nowadays I am completely used to the way traffic flows in the city. However, in the beginning, it was completely overwhelming. Using the left- or right-hand indicator? Entering a line and stick to it? Stopping at a red flashlight? No, not here 🙂 
After traveling the US a bit I realized this is more a US custom than specifically for Chicago but the sheer size and heartbeat of the city makes driving a bit more challenging. In contrast to Germany, you have to anticipate the behavior of other road users more than ever as it is hard to predict their next step. Without indicating whether they want to go right or left and by constantly changing the line to arrive 10 seconds earlier you are always thinking in eventualities. 
4. The presentation of art throughout the city
As I am a huge fan of art, Chicago is the place to be for me. Not even can you find amazing museums such as the Art Institute or the Museum of Contemporary Art. You will also find free art by just walking down the street. The city is investing heavily in art and makes it open to the public. The Millenium Park, for example, is full of nice sculptures but also in other places like the Riverwalk and Michigan Avenue you will find sculptures that are also changing throughout the year so it never gets boring. Using public places to show art for free is a great enrichment for a city like Chicago!
5. Speaking of art: Each building is art itself
Chicago is the city of architecture. You will find a great mix of different styles throughout the city creating one of the most beautiful skylines I know. I just love how the styles, materials, and colors are changing from building to building. While the skyline in New York is really impressive and massive, Chicago seems to be softer and more interesting in terms of style concepts. The mix of old and new brings a special atmosphere to the city which I have not found in any other place.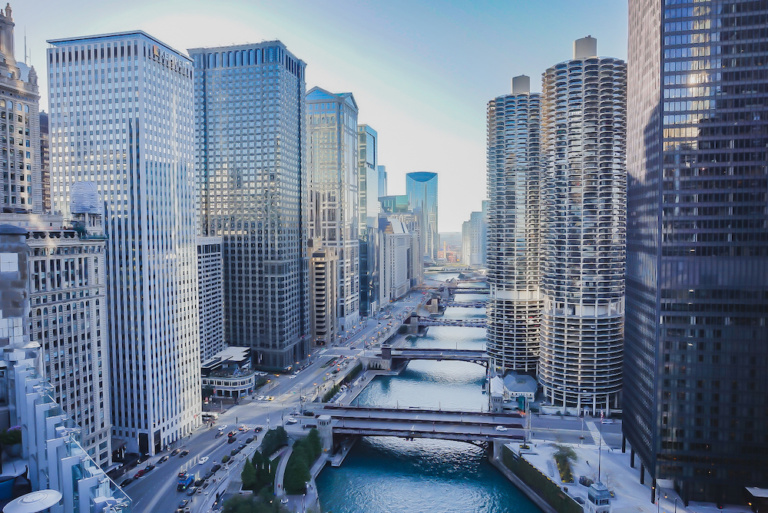 6. Where did all my money go?
As we have expected, the living costs of Chicago are very high and not so far from the insane living costs in New York. However, when you leave the currency rate and difference in salary aside there are a couple of things which are just incredibly more expensive than back in Europe: 
First, eating out in a restaurant. While the prices for a dish itself are higher, it really gets costly when adding tax and the average tip of 20% (!!!)  
Americans told me that tipping less than 20% is actually seen as rude and I have seen that this number is now rising to up to 25%. 
Second, shopping for simple toiletries. Imagine spending 4-times the price for basic cotton pads you are used to. Or toilet paper, toothpaste and so on. I am always looking forward to the care packages from my mum back in Germany. She constantly packs facial masks for me which are 6-times the price here 🙂 Thanks, mum!
7. Everything is sales driven
Speaking of expensive things: I did the mistake of shopping for things which are not on sale. After a while and some chats with locals I found out that nobody is shopping at its original price. Every day the shops find excuses to do a sale. While in Germany we usually have a spring and autumn sale, you find here a Monday sale, a happy weekend sale and so on.  If you like a top and it is not on sale just wait a couple of days and shop it online. Same with groceries. While I still prefer to write a shopping list our weekly dinners are more and more decided on daily offers nowadays. 
8. Kudos to the public transportation system in Chicago
As a German, I am quite spoiled when it comes to public transportation. Although we are clearly a car-nation we also enjoy good public transportation in bigger cities. America is quite different. Having your own car and using it for every meter represents personal freedom. Our vacation in California would just not have been possible without renting a car. However, here in Chicago, you don't need a car at all! The public transport system is one of the best in the country. With a close net of buses, metros, and trains you can go wherever you want to for as little as 2 bucks.  I just love this independence. Also, there is nothing more interesting than observing people using public transportation to get a better understanding of the foreign culture. 
Chicago is clearly a dog city. I have never in my life seen so many dogs in a big city. Being a dog person myself I miss having a dog here but at the same time, I don't want a dog to live in a skyscraper with that little space and no nature. So, unfortunately this  is not an option. However, our building is full of dogs and the management is very proud promoting the building as dog-friendly as they have around 3 square meters free running space on artificial grass. Most dogs use the elevators more often than anyone else. Also, owners love to spend money on dog babysitters and grooming services. Many times you will find dog cookies in restaurants and shops and there is an insane amount of stylish dog toys and shirts to purchase at every corner. 
10. Chicago - the festival champion
During summertime, it is hard to decide on what to do on weekends as they are fully packed with so many nice festivals. The city is doing everything to let us forget about the cold winter. Each neighborhood organizes celebrations with special kinds of food and drinks. Most of the time there is live music and the atmosphere is just so relaxed and positive. Can't wait for the summer here in Chicago!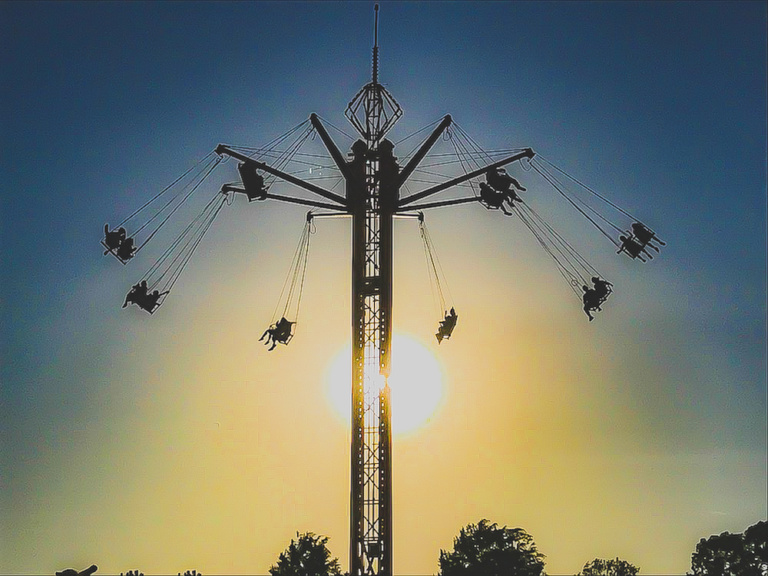 So, these are my first 10 impressions of Chicago.  I hope you enjoyed reading and are looking forward to exploring this great and vibrant city soon!
What comes to your mind when thinking about Chicago? Do you share similar impressions? Let me know in the comments below. 
Thanks for stopping by and sharing the love!

Share the article with a friend