The expat-preneur: a real deal?
Over the last week, I read a couple of academic papers about expatriation. Many papers are dealing with the effect of expatriation on the relationship and the influence of the Expat Partner on the success of the assignment. 
One paper, in particular, caught my attention: "The expat-preneur: conceptualizing a growing international career phenomenon" by M. Vance, Y. McNulty, Y. Paik and J. D'Mello. 
It states that the expat-preneur is an emerging international career phenomon. They define an expat-preneur as an individual temporarily living abroad, initiating an international new venture (self-employment) opportunity in a host country. 
I have written my master thesis in the field of entrepreneurship. Therefore I have a personal interest in that topic and it thrills me to see that there is an academic link between being an Expat/Expat Partner and starting an own business. 
Expat-preneurs are opportunity entrepreneurs. That means they recognize opportunities and engage in entrepreneurial activities. I just love this statement!
The paper distinguishes between pre-departure expat-preneurs and transitioned expat-preneurs. 
The fascinating finding for me was to read that the expat-preneur concept is grounded in how individuals engage with employment once they are living abroad. For many Expats/Expat Partner the way they see a fulfilling employment change due to the influences abroad.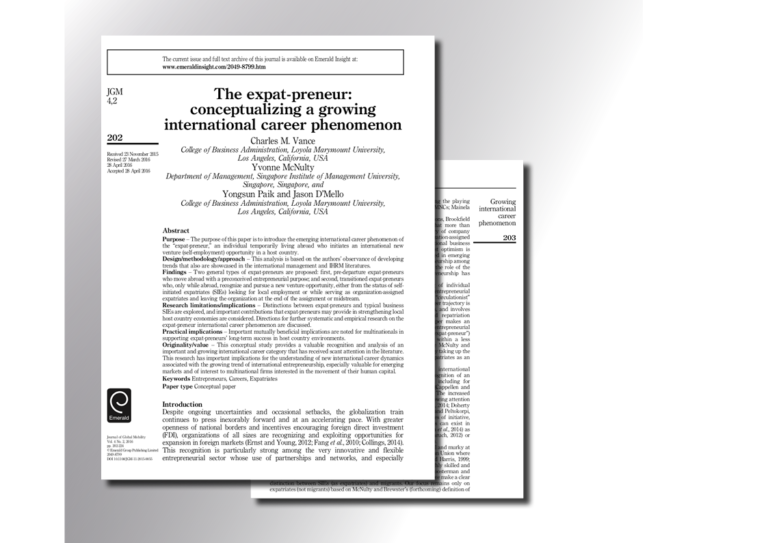 In my experience its an interesting interplay between the fact that your horizon is broadened due to the international influences and the fresh start and on the other hand the possibility to continue in the well-known path is limited due to work employment restrictions. 
Many Expat Partners are therefore challenged to find a new work or self-development purpose for their time abroad. For some of them, the Expat-preneur concept seemed to have worked out. 
I am interested to further explore this topic and get in touch with Expats who realized self-employment abroad. 
One example who comes to my mind is Gabi from the jewelry brand Gabi on12th Street.
Gabriella is Swedish and she currently lives with her family in Switzerland after a four-year stint in South Africa. You can see these influences in her stylish and colorful designs. However, the pieces are not just really pretty but also have an interesting concept behind as the jewelry is made locally in South Africa and supports the local community. I instantly had to purchase one of these bracelets as a reminder what greatness can come from the concept of Expat-preneurs. 
Do you know other great Expat-preneur stories? Are you an Expat-preneur yourself? I would love to more about it. Please don't hesitate to get in contact with me or let me know what you think in the comments below so we all can share our experiences. 
Wish you all a great start into the week!
Thanks for stopping by and sharing the love!