The best 1-week road trip through Arizona
1-week arizona Your road-trip itinerary
The best 1-week road trip through Arizona
I just came back from a perfect 1-week road trip through Arizona and a bit of Utah. Those states are really magical when it comes to nature and a definitive recommendation! If you are planning a 1-week road trip through the US check out this itinerary for inspiration! 
Roadtrip Arizona: When to go
I guess there is no wrong time to visit Arizona! It is a really sunny state, and you will be able to be outside most of the times! We went to Arizona end of November, and it was warm (cold at night), and we have been spoiled with the most beautiful autumn colors while there is already deep winter in Chicago. Summer can get really hot but it will also be easier to sleep outside if you are looking for a more aventurous vacation. Check out here for more information about the weather. 
The perfect 1-week itinerary for arizona (and a bit utah)
I recommend flying into either Las Vegas or Phoenix. Both cities are a perfect start for a road trip. Personally, I am not a fan of gambling and the scenery of Las Vegas, so we chose Phoenix for our adventure. You can also think about starting in Phoenix and ending up in Las Vegas. Just have in mind that this it is often a bit more expensive regarding plane tickets and car rental.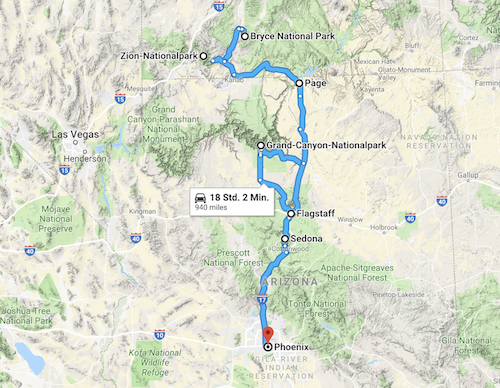 Let's connect
on social media!
Arizona Road trip Stop 1: Let's start in Phoenix
I was very surprised about Phoenix! I did not expect such a modern city in the middle of the dessert. First, they have a really modern metro connecting the most important locations in the city. The quality of the metro reminded me very much of the ones in a European city and it is a huge difference to the noisy underground in Chicago or New York. Also, I have seen lots of recycling efforts and advertisements to make the residents aware of climate change. What a nice surprise. If you are all about nature don't spend too much time in the city. We left after a nice dinner and breakfast stop the next morning. Alternatively there are a couple museums to stop by and a lot of shopping opportunities. 
My recommendations: Click to get to website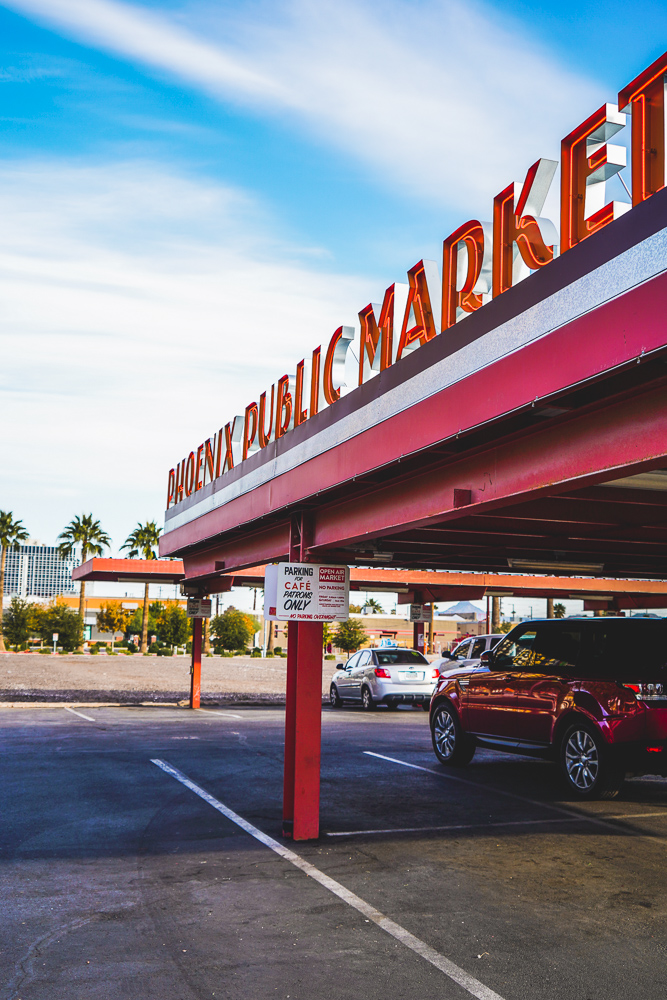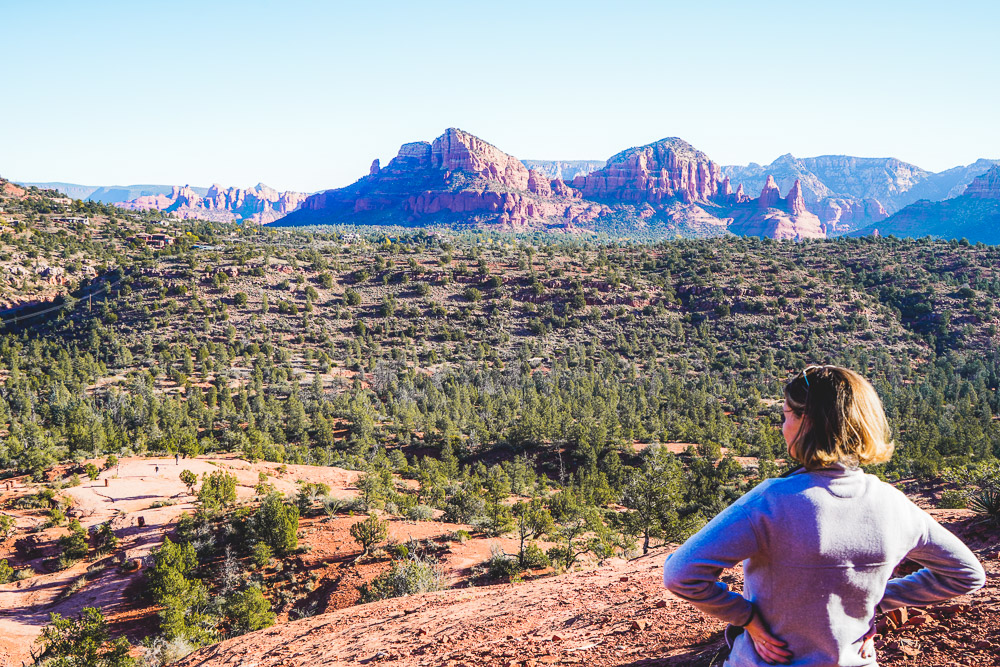 Arizona Road trip Stop 2: Short drive to sedona
On the way to Sedona, you are leaving the palm trees behind you and say hello a variety of cactuses. In November, Sedona welcomed us with the most beautiful autumn colors, and the contrast of yellow trees in front of red rock was just mesmerizing. Sedona is perfect for all types of hikers. You will find short walks but also challenging paths with some altitude to conquer. Sedona offers all the touristic infrastructure you can wish for, from smaller boutique hotels to the traditional chains to spas. You can chose from a variety of restaurants. The northern part of the city is a bit too touristy but only a short drive to the nearby Village of Oak Creek will leave you speechless.  
My recommendations: Click to get to website
Arizona Road trip Stop 3: Flagstaff
Flagstaff is a pretty tiny town with some great coffee and bookshops just along Route 66. Only 1 hour away from Sedona it's a perfect spot for a small break and stroll around town. Flagstaff is pretty "healthy-hipster" and the Lonely-Planet is calling it a spiritual granola town. I did not experience it to that extent, but it's definitely worth a stop! 
My recommendations: Click to get to website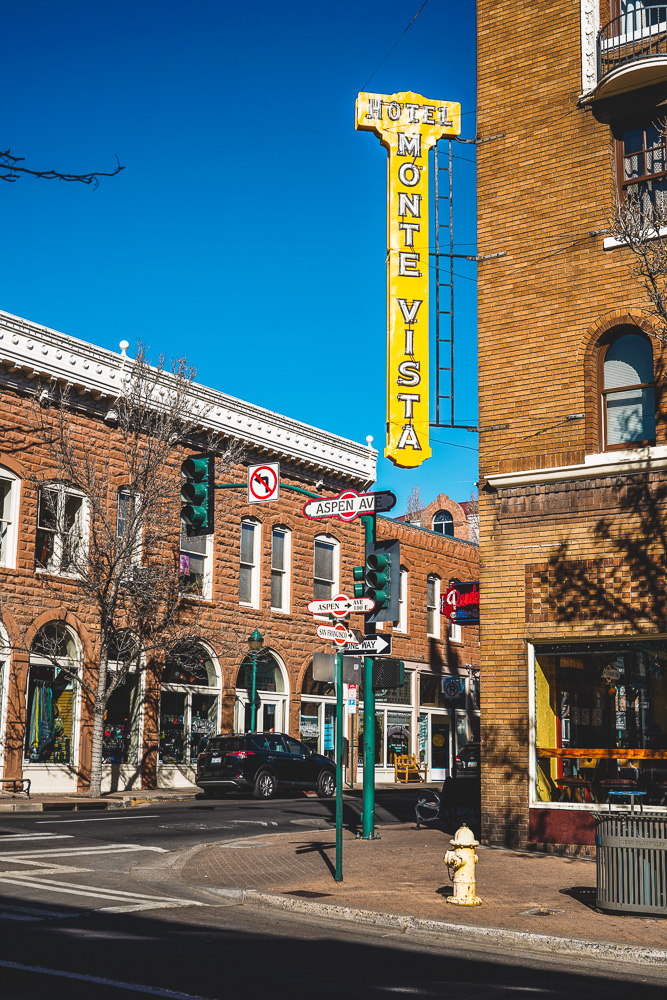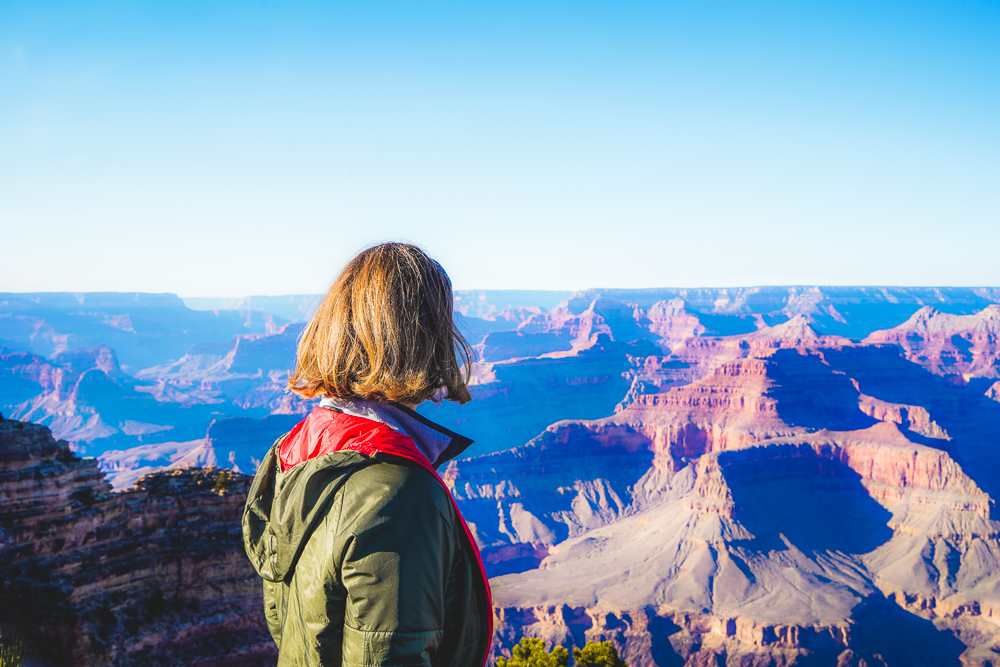 Arizona Road trip Stop 4: Grand Canyon Nationalpark
The Grand Canyon National Park is for sure a must see on this list. It's one of those National Parks that makes it very easy for you to get some fresh air. The park has a shuttle service with busses making it very convenient to get from one place to another without worrying about parking. You can walk alongside the entire rim, and we did about 80% of that. There is no altitude to conquer so it is a pretty straight-forward walk but with a breathtaking view! If you stay a bit longer, you can also see a great sunset! Just be aware that it gets really cold from November to April and the moment the sun is down you will freeze immediately 🙂 Better bring a warm jacket. 
My recommendations: Click to get to website
Want some good vibes in your inbox? Travel Guides? Coaching Exercises?
Arizona Road trip Stop 5: Horseshoe Bend
This location is really touristy! However, I saw this photo again and again over the last years and so it was a must go 🙂 This stop will be very short as there is nothing else to do than a short walk to this view, taking a picture, making sounds of astonishment and walk back to your car!  But it's definitely worth it and a real low hanging fruit 🙂 For the best pictures, go around 12 o'clock so you won't have so much shadow on your pictures. As you can see we went earlier in the morning as we continued the road further into the country for some hiking and solitude. 
My recommendations: Click to get to website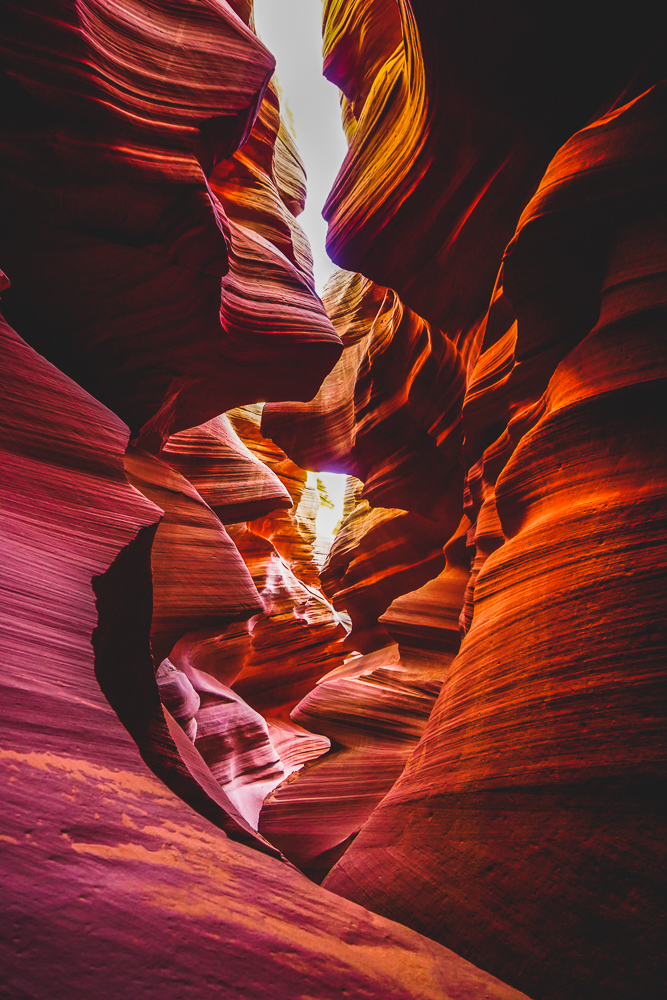 Arizona Road trip Stop 6: Antelope Canyon
This place was one of my unexpected highlights of the road trip through Arizona! The color and shape of this fantastic canyon reminded me of Petra in Jordan. It is just a great experience and no matter the daytime or weather you will be amazed – I guarantee. The most important thing: You won't be allowed to enter this canyon on your own! Back in the days, people died because of a flood, and till then it has been decided that nobody is allowed to enter without the tour guide. There are about three tour operators in the nearby town page that offer guided tours. They are all the same so take whichever has availability. If you go in high season, you should definitely book in advance. We went during Thanksgiving weekend and had been lucky to get the last two tickets. Spare you the disappointment and book your tickets early. If you are not sure about investing the money, I can tell you it is worth it!
My recommendations: Click to get to website
Arizona Road trip Stop 7: Bryce National park
This and the next stop are technically not in Arizona but in the very South of Utah. However, it is so close that you can easily combine those two stops with your road trip through Arizona. The Bryce National Park is a rather small park, and you won't need much time to see it all. The first and last stops within the park are the most remarkable with great views. Most hiking trails have been closed due to rock falls when we have been there November 2018. Therefore I can't really recommend you specific hikes but just taking your car along the rim was a ride with fantastic scenery. If you do not have done it already, purchase the annual pass for the National Parks, so you don't have to pay a separate entrance fee. 
My recommendations: Click to get to website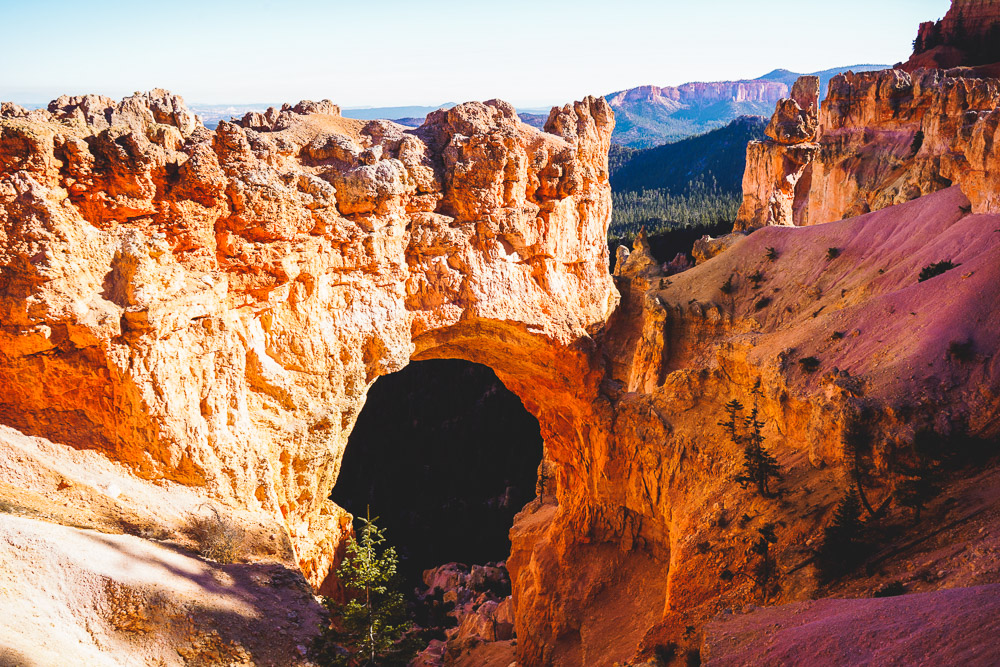 Arizona Road trip Stop 8: Zion National park
WOW! I just loved Zion National Park, and it might even be my favorite National Park so far (and we are pretty spoiled here). 
Zion is one of the best parks to hike and not only sit in the car driving from one view spot to the next. It offers everything you need from short family trails to really demanding trails with lots of altitude and climbing. In November we have been able to spot a lot of deer – even from close by. This park is just beautiful! Especially in fall, when it is not so crowded (besides Thanksgiving) and the yellow trees paint a really romantic picture. 
My recommendations: Click to get to website
So that's a wrap for my 1-week Arizona road trip itinerary. If you have more time, I recommend going further south to Canyonland and Arches Nationalpark or visit the beautiful town Moab. Otherwise, Las Vegas could be an option or like us: Drive back to Sedona and do a last hike before heading to the airport in Phoenix. For me this was a very relaxing holiday as we never had to drive more than a couple of hours, streets have been pretty straight forward, and there was not too much traffic. I was a bit disappointed by the hotel infrastructure, but if you are ok with the typical hotel and motel chains, you should be fine. When you go during the warmer months, I can also recommend you to do some glamping (camping in nice tents with real beds:-))
Let me know if this guide was helpful or if you need further information! I am happy to add. I hope this post was inspirational to you and that you are looking forward to your next road trip – maybe to Arizona 🙂
Thanks for sharing the love and stopping by

Send this article to a friend & share the love:
---
---