Travel Guides for Inspiration & Planning
Read and download my tipps and tricks for the best road and city trips. Focus is mainly on the United States due to may current new home base. However, stay tuned for some other destinations next to the US.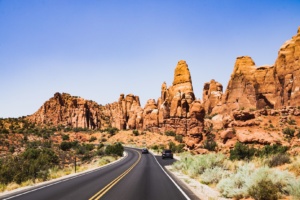 Just recently we mastered a 7.000km (4.400 miles) road trip through the United States. Only the two of us and the endless plains of the American Highway. That means you are driving for hours without leaving the highway which route you can see for miles and miles. However: We are still happily married and even enjoyed that means of transportation. We got asked many times whether this distance in such a short time was not stressful. As we, on the other hand, have found it quite relaxing and enjoyable I decided to share my top proven tricks with you to make each longer road-trip to a fantastic journey.
Read More »
Questions? Feedback? Cooperation?
Easy-peasy: Just shoot me a message
When completing this form your name, e-mail and message will be collected in order to deal with, and only in relation to, your enquiry. Please read our Privacy Policy to see how your data is used and stored. 
Are we friends on social media yet?
Sign-up for the share the Love Newsletter