Moving abroad brings change on every level you can think of. While it can be a challenge and provoke an identity crisis if you are not able to find a job right away it is also a very unique opportunity to reassess your values and goals in life. Dive deeper into some valuabale coaching techniques when moving and living abroad. As a certified coach I am also offering individual coaching sessions. Contact me for more information. 
How coaching helps with transition
How coaching helps with transition
What is co-active coaching?
Professional coaching is a great way to gain new direction in times of turmoil, but it is also a great tool to gain new insights on how to achieve your ambitious plans. 
Co-active coaching is all about establishing a collaborative relationship between the coach and the client. It is the goal of the coach to empower the client to find their OWN answers. It's about exploring options and creating awareness of underlying obstacles rather than rushing to a quick solution which is more practized in consulting. 
The foundation of co-active coaching is an open and collaborative conversation. 
The beauty of coaching understands that you as the client are already resourceful and that you need a tool to uncover the information that is already there but that is blocked. 
Co-active coaching encourages transformation as long as it is along with your values and has an empowering effect. 
Most importantly: Coaching is not about "fixing" you, but it's about helping you to discover and develop your true self.
want to find out how coaching can help you?
Send me a message & schedule a free discovery coaching session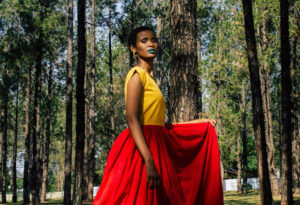 Moving abroad can have an impact on your confidence. Especially if you have trouble in getting back into a routine or in some work right from the beginning. In this article, I want to introduce you to Khethiwe, a confidence coach located in South Africa. I interviewed her about her approach to start a couple of portable businesses, her advice for expat partners, and how to regain confidence after moving abroad. She shared her experience with being a public speaker and a coach. If you are interested in getting started in that field, stay tuned for her tips!
Read More »
In need for more inspiration?
Follow me on social media
Sign-up for the share the Love Newsletter for latest blog posts and guide downloads